Watching Soccer in Buenos Aires, Part 1: Boca Juniors
River Plate, Veléz, Racing, Boca Juniors, Argentinos Juniors, Independiente, San Lorenzo, Tigre, Huracán, All Boys… if you want to check out a soccer match in Buenos Aires, there are more than enough opportunities. Foreigners typically flock to the Bombonera to watch Boca Juniors, or the Monumental: home of River Plate. These are by far the two biggest teams in terms of success and support and clashes between them, known as superclásicos, are the stuff of legend.
I'm a huge soccer fan, so it was a given that I'd drag Jürgen along to at least one match. And in fact, we went to two. First to Boca Juniors, then San Lorenzo. Both were interesting experiences, though I wish I would been armed with the knowledge I now possess. Here's Part One of our Buenos Aires Fútbol Odyssey. Check out Part Two, here.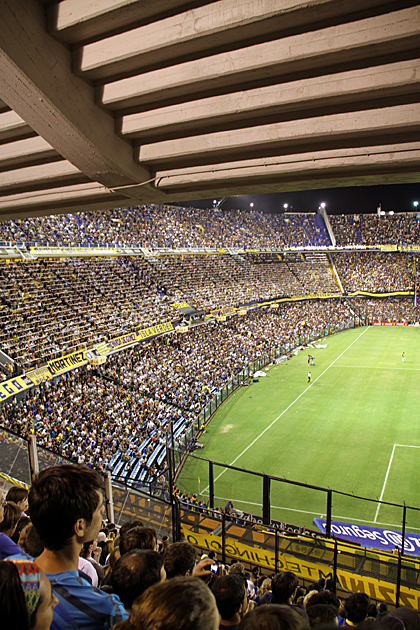 March 20th: Boca Juniors 0 – 2 Olimpo
The Tickets
Boca Juniors are hugely popular, and normal tickets have become impossible to purchase. I waited in a line for two hours with a few hundred other people, before we were told that no tickets would be sold to the general public. The outrage among the group of mostly Argentinian fans was understandable — why did they make us wait so long, just to tell us that? Later, I would learn from reading online forums, that this has been the pattern since at least the beginning of the year.
The thing is … there are tickets available, and plenty of them. Boca has learned that any tickets which don't go to their club members can be sold for much, much more money through hotels and tour operators. So, normal Argentines at the stadium booths are out of luck: all the tickets have been sold to package operators who jack up the price obscenely.
The upside of this scheme is, if you're willing to shell out, it's easy to get a ticket. The tour operators are a dime a dozen and, even the day of the game, you can find tickets. The downside is, the prices are exorbitant.
Not willing to miss out on the "Boca Experience", we gritted our teeth and chose one of the tour operators. The offer was "Free Beer and Pizza" before the game, plus transport to and from the stadium. The tickets were in the Popular Section, and at 360 pesos, were nine times face value. The price seemed to be standard across all the tour operators we found, and at least we would be getting our money's worth… right?!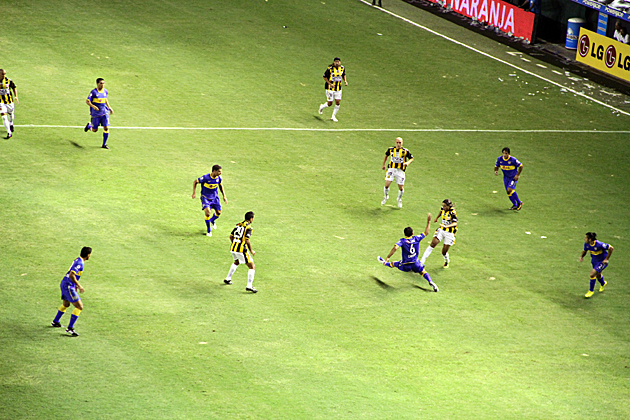 Pregame
Along with about 20 other foreigners, we were bused to the stadium three hours before game time. Our guides grouped us together like schoolchildren, cut past the line of "normal" fans, and dumped us in a garage for the pizza and beer. There were two pizzas for the entire group. Not everyone even got a slice, and it was the cheapest, most disgusting pizza I'd ever tried to ingest. Fake plastic cheese, and the beer was a joke, too.
Anyway, we weren't there for pizza. We were ushered into the stadium 90 minutes before kickoff and then just sat there waiting. Apparently, it was "too dangerous" to have us enter with the regular fans. What nonsense. By the time the game actually started, everyone was already tired and annoyed. I'm so sick of this attitude that tourists have to be afraid of regular porteños. It's a falsehood promoted by charlatans, who can wring even more money out of foreigners by "protecting" them. "You'll have to be bused in and out with special guards! You won't be safe! Book with us, or you'll be mugged in an alley! These people are animals!" Give me a break.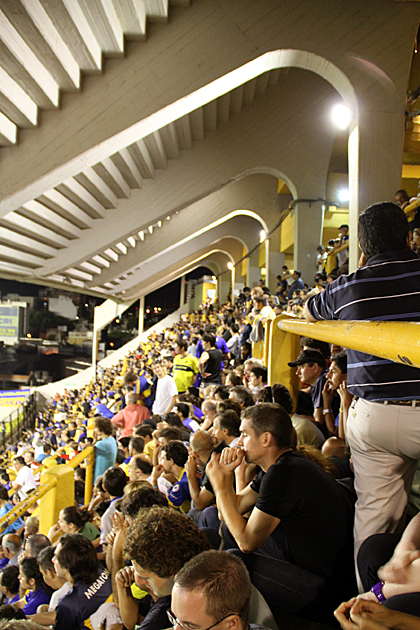 The Stadium & Atmosphere
Regardless, the Bombonera is incredible. Even though Boca played atrociously and limped off the field after a well-deserved defeat, the atmosphere in the stadium was constantly upbeat. Singing, chanting, crazy fans (hinchadas) climbing up scaffolding, flags, confetti, etc.
So, during the game, I was really happy. But before we were able to leave the stadium, we had to wait until the opposing team's fans had cleared out. Then our group had to wait until the normal fans in the popular section had also cleared out. Because we were helpless, silly children that needed protection from regular people. God forbid we leave the stadium with them. Sigh, it meant another hour of sitting around.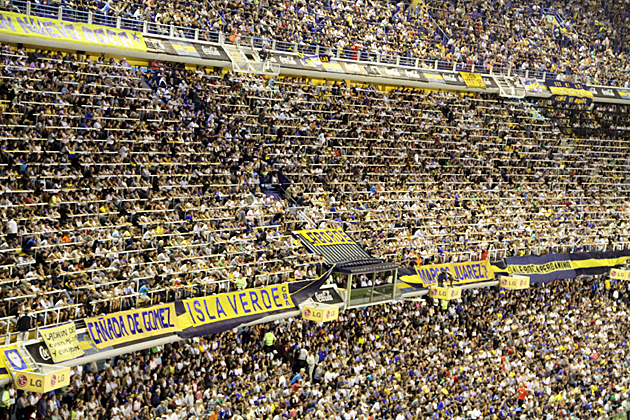 Overall…
… the game was fun, but it was a terrible evening. We got back home with the full knowledge that we had been ripped off; that we had paid tons of money, and weren't even able to experience the true joy of attending a match … sitting around a pub before the game begins, meeting local fans or being a part of the action. If I had it to do over, I would skip Boca entirely.
And if I absolutely had to go to the Bombonera again, I would buy tickets from a scalper. That's a terrible thing to suggest, so I'm not suggesting you do this. But, shit. I would. I would pick the cleanest, nicest looking scalper, and buy a ticket from him.
The Bombonera on our Buenos Aires Map