Occupying a good chunk of the block sketched out by Estados Unidos, Defensa, Carlos Calvo and Bolivar, the Mercado de San Telmo is a place which locals and tourists visit in almost equal numbers. The latter to buy antiques and souvenirs, the former for their day-to-day groceries.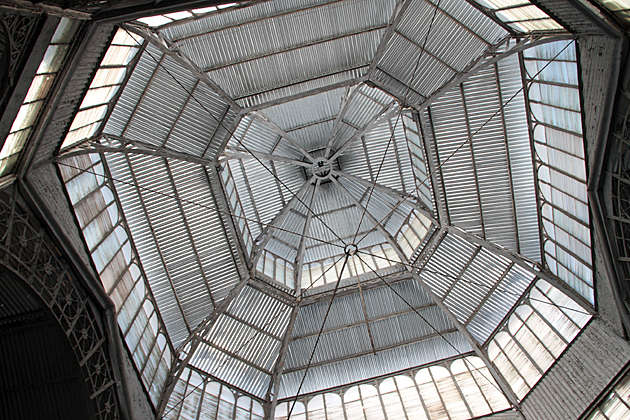 Since we precariously straddle the line between tourist and local, we use the mercado for both purposes. A number of veggie and meat stands compete for business in the center of the market, surrounded by antique shops that extend down long hallways. Prices for cool souvenirs, second-hand clothing and random trinkets are noticeably cheaper than at the Sunday antiques market. I picked up an old Carlos Gardel album for twelve pesos, and on that very day, saw the same album being sold for 60 outside.
The souvenir shops are a somewhat newer addition, capitalizing on San Telmo's reputation as the best antiques hunting ground in the city, but the market has a history stretching back to 1897. It was inaugurated a couple decades after the Yellow Fever epidemic which devastated San Telmo, and the new center of commerce was greeted enthusiastically by residents. Ever since, the mercado has been an integral part of the neighborhood. In 2001, it was even declared a national historic monument.
When you go, take your wallet and take your time. It's almost inconceivable that you'll walk out without buying something. If you're in the mood for meat, check out our favorite stand: Puesto 54. With incredible prices and friendly cleaver-wielding butchers always willing to explain the various cuts, it quickly became our go-to place for beef.
Location on our Buenos Aires Map