El Querandí: Dinner and a Primer to the History of Tango
There are a few ways to experience tango while in Buenos Aires. Milongas are probably the most popular option, where people of all skill levels join in the dancing. And there are recitals with excellent music, usually no dancing, but possibly the most authentic. Or, you can choose the full-on tourist experience of the dinner show.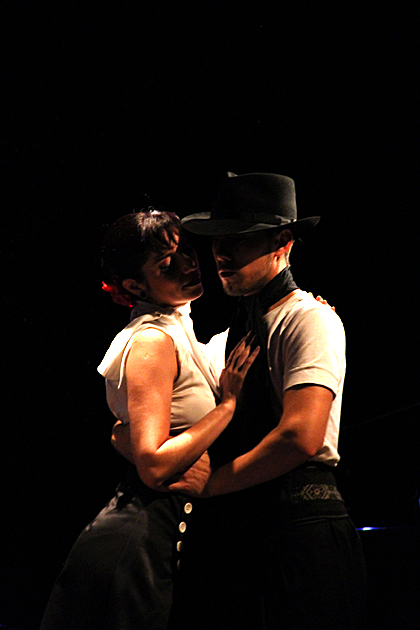 We arrived at El Querandí at 9:30, and were promptly served dinner: salads, empanadas, steak and wine. While eating and awaiting the show, we met our table companions. Everyone in the restaurant was a foreigner; German, American, French, Japanese. That would usually be a turn-off, but not tonight. The crowd was happy and energetic, and besdies, you wouldn't go to El Querandí if you wanted to be surrounded by locals. The show is an overview of tango's history! Hardly a lesson most Argentinians would need.
Once the lights went up, idle chatter with our new friends immediately stopped: our attention was entirely captured by the show. Two hours of top-notch dancing and singing, with incredible music performed by an odd quartet consisting of a piano, violin, bass and accordion. Some of our favorite moments in the show were actually just the band playing by itself.
The initial acts were set in the outskirts of Buenos Aires in the late 1800s, when roughly-dressed workers and the immigrant women who worked in brothels were inventing a new art form. The way it turns out… and I had really suspected as much… and perhaps especially when it's performed by young, skilled and beautiful people… and, yes, perhaps especially when they are dressed as rough-n-tumble dock workers and prostitutes… well, the tango can be … let's just call it "passionate".
There was singing as well, with a tribute to Carlos Gardel who popularized tango both at home and around the world. As the show moved into modernity, when tango found acceptance among all walks of Argentine society, the sets became more professional and the dress more genteel. The grace and timing of the dancers was amazing, and there were a number of beautiful moments. The dancers struck a lot of classic poses, which was well-appreciated since photography was permitted during the show.
Fine, it's not the most authentic way to experience tango in the city, but El Querandí provides a wonderful evening of food and music. And anyway, "most authentic" doesn't necessarily mean "most enjoyable". We were amazed at how well-staged the show was, and how much fun we had. If you're looking for an entertaining evening out, and a solid tango show, you won't be disappointed in El Querandí.
Peru 302
Tel: 11 5199 1770 (Reservations Necessary)