The Carlos Thays Botanical Garden
The most striking aspect of the northern barrios (Retiro, Recoleta, Palermo), especially in comparison with their less affluent southern counterparts, is the number of beautiful parks and green spaces. One of the most remarkable is the Carlos Thays Botanical Garden in Palermo.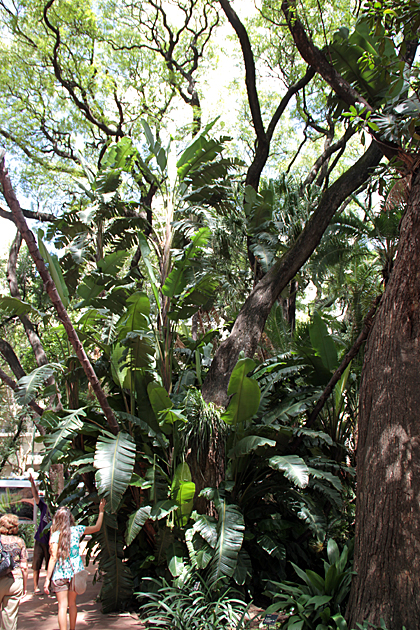 Found near Plaza Italia, adjacent to the zoo, the Botanical Garden is triangular in shape, and home to more than 5000 species of plants. Entrance is free, and upon stepping foot inside, you start feel all the stress of the city slowly fading away. Cars and trucks zip loudly down the bordering avenues, so it's not exactly silent, but the garden still imparts a sense of isolation and peace.
The garden is nothing if not diverse. Walking along the paths, you encounter a number of different landscaping schemes, from perfectly symmetrical to untended wild growth. Usually, there are signs which indicate the type of plant you're looking at, and its country of origin. Long paths lead along fountains lined by statues, and around greenhouses, one of which was shipped over from Paris after 1889 World's Fair. A healthy population of feral cats roams the grounds, keeping a careful eye on visitors, most of whom are porteños enjoying a short break. When we went, almost every bench was occupied by people drinking mate and reading.
Carlos Thays perhaps did more than anyone else to beautify Buenos Aires. Born in Paris in 1849, he was invited to the city at the age of 40 as an expert landscape artist, and immediately set about improving what he found. Thays was responsible for developing a number of new parks, and redesigning existing ones. In fact, almost every green space in the city has felt his influence, from the Centenario to San Telmo's Parque Lezama. Thays promoted the planting of trees along city boulevards and demanded more walkways and public plazas. But the Botanical Garden was his pet project, for which he petitioned the city for years.
Buenos Aires is hectic. Even if you're not going far, getting from one spot to the next can be exhausting. And amid the unceasing horns and the shouting, the smell of trash and never-ending drizzle from overhead air-conditioning units, it can also be enraging. But before you snap and go all Falling Down, grab a book and take a long walk through the Botanical Garden. If that doesn't calm you down, then fine, you can go shoot people. You have our permission.
Location on our Buenos Aires Map
–Download Our Buenos Aires Travel Book