Day Trip to Colonia del Sacramento
Stay over night in Colonia: Hotels – Guest Houses – Bnbs – Hostels
A visit to Colonia del Sacramento is one of the easiest and most popular day trips you can take from Buenos Aires. Cheekily referred to by porteños as the city's 49th barrio, Colonia actually belongs to Uruguay. We recently took the slow ferry across the river to check out this beautifully upheld colonial village.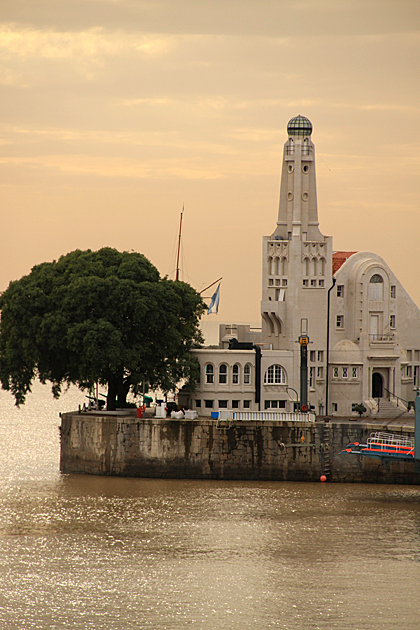 The Rio de la Plata widens incredibly as it empties into the Atlantic Ocean, and our ferry needed three hours to make the journey. There are faster, more expensive boats, but we were in the mood for a leisurely ride. The seats were comfortable and, after a quick breakfast in the on-board café, we both fell asleep. At noon, we arrived in Uruguay, refreshed and eager to explore.
Founded by the Portuguese in 1680, Colonia is the oldest town in Uruguay. In the course of a tumultuous history, it's changed hands eleven times, mainly between the competing powers of Portugal and Spain. Miraculously, its historic center has survived intact; colonial-era houses and charmingly irregular street patterns persist into the present day. Colonia has been included on UNESCO's list of World Heritage Sites, officially recognized as a global treasure.
After leaving the ferry, we walked into the old town through the Portón de Campo, a 17th-century drawbridge and gate. Sturdy white-washed houses, seemingly as old as the trees growing alongside them, line cobblestone streets with drains running down the center of them. Vintage cars putter noisily down the streets. There was just one modern sound that kept snapping me out of the trance of antiquity: Jürgen's machine-gun camera clicking.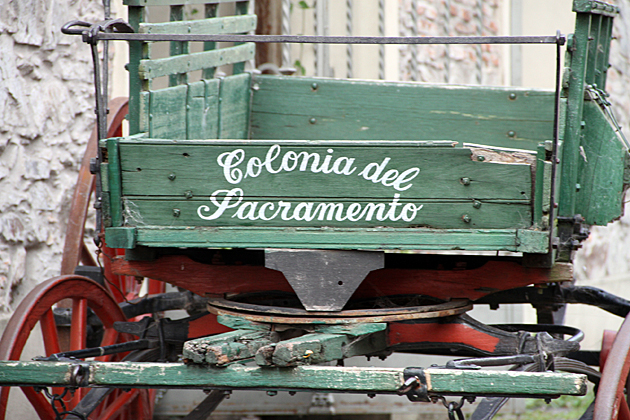 Our first touristy stop was the faro, or lighthouse. Despite being rather stunted for a lighthouse, it allows a perfect view over the Plaza Mayor. And the light exercise of climbing all those stairs certainly earned us a break, so we made a beeline for the cozy furniture of Lentas Maravillas, a chic casa-restaurante where we sampled Uruguayan wine while looking out over the river.
Nearly every restaurant and shop in Colonia accepts both Argentine pesos and US dollars. But the city's museums don't; rather than waste time hunting down an exchange place, we skipped on them entirely, figuring it'd be more fun to spend the afternoon poking around the town's alleys and shops. Venturing outside the historic center, we encountered the beaches — Colonia has beautiful beaches running along the coast for miles — and later sat down for beers on Calle Comercio.
It was about as stress-free as a day could be. Activity-wise, there isn't a whole lot to do in Colonia, which gives you ample excuse to simply settle into the town's tranquil rhythm and enjoy being there. Before our ship left back for Buenos Aires, we had dinner at a cool pop-art themed restaurant called Blanco y Negro. It was too early, but the waiter was like, "Whatever, just grab a seat anywhere. No big deal". I get the feeling that in gorgeous, quiet Colonia, nothing is ever a big deal. A great escape.