We were sitting outside at La Fabrica Del Taco, a popular Palermo joint serving up cheap Tex-Mex style fare, when we noticed something strange about the restaurant next door. It had the appearance of a fancy, exclusive club, with red curtains obscuring the interior, but every couple who approached the door looked anxious and slightly furtive, like kids about to put their hands into a cookie jar. I went to investigate and, after reading the menu, understood the nervously excited behavior of the people going inside. Te Mataré Ramirez is an aphrodisiac restaurant. And its menu is among the best things I've ever read.
Warning: if sexually explicit language doesn't sit well with you, stop reading now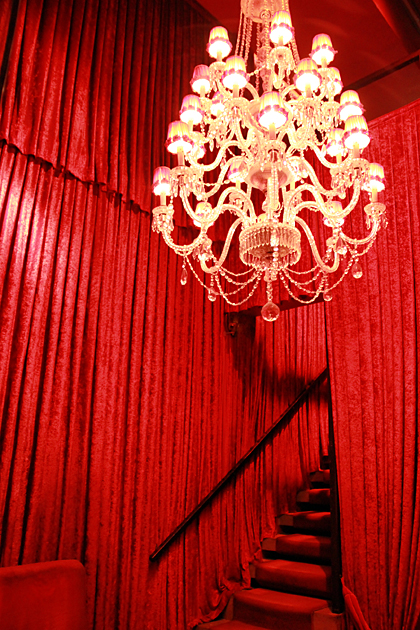 Here are some of the meals featured on the menu. This is totally serious, I am not nearly clever enough to make this kind of shit up.
You Scream with Ecstasy While You Beg for Penetration
Of Brazing Lips and Inflamed Desires
Childish and of Insolent Vocabulary, She Emanated the Aroma of her Secret Fluids
Your Female Swell Annihilates Me at Night
Savory, You Split Apart like Ripe Fruit
I Tear Out Enjoyment from Your Warm Treasure with My Flaming Tongue
You Indecently Drank the Eruption of My Pleasure
I Covet the Beauties that Her Short and Airy Skirt Suggests
Your Mouth Dances While Kissing and My Tongue Revolts
Playing in the Dark, Playing to be Strangers, to Have "Company"
Waiter, I think we're ready to order! I'd like to start with a Childish and of Insolent Vocabulary, She Emanated the Aroma of her Secret Fluids. Oh yes, that sounds quite good.
Immediately, I called Jürgen and our friends over, to join in the mirth. While we laughed, another shame-faced couple approached the door… we felt bad for mocking their erotic evening, and quietly returned to our tacos.
Hilarious, and I have to admit that I'm intrigued. Who among our readers has been to Te Mataré Ramirez? Don't be shy! I need to know what it's like.
Gorriti 5054
Location on our Buenos Aires Map
Tel: 4831-9156