Bellagamba – Rustic Eating in Caballito
Buenos Aires is the kind of city with hidden treasures on every street. We were walking down Calle Gaona in Caballito, both of us grumpy with hunger, when we happened to pass by Bellagamba. Stepping inside, we discovered one of the coolest bodegas we've yet seen in the city.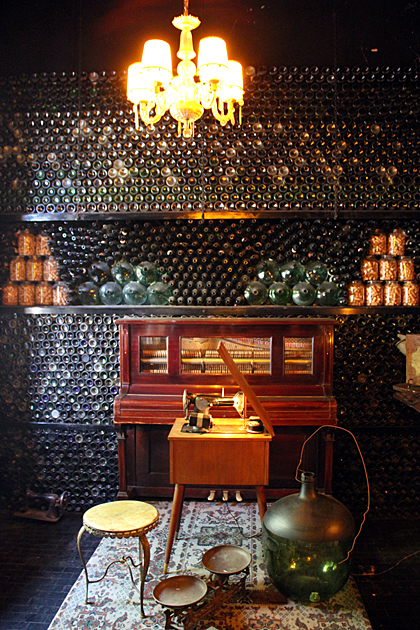 Hundreds of old photographs line the walls, along with bookshelves and ancient paintings. The interior was huge, and filled with dining booths and tables. In the back, a small terrace allowed for open air munching. A craftsman was occupying one of the terrace tables, refurbishing an old suitcase. But we hardly blinked: Bellagamba feels like the kind of place where there might be craftsmen around while you eat, refurbishing old suitcases.
The food is extremely casero: simple, cheap, and no-frills. We picked a couple plates from the ready-to-serve buffet, though you can also order things from the kitchen like milanesas and hamburgers. While we filled our bellies, and soaked in the atmosphere of the atmospheric bodega, our mutual grumpiness vanished. If you're in the area, don't hesitate to go in, even if just to have a look around.
Bellagamba
Gaona, Av. 1327
Location on our Buenos Aires Map
– Read about Wines from Argentina