Dadá – Artsy Eating in Retiro
For a restaurant named after a 1920s anti-art movement, Dadá turns out to be remarkably unpretentious. There's a lot to love about this little place on Calle San Martín in Retiro: the decoration, the friendliness of the staff and, of course, the food.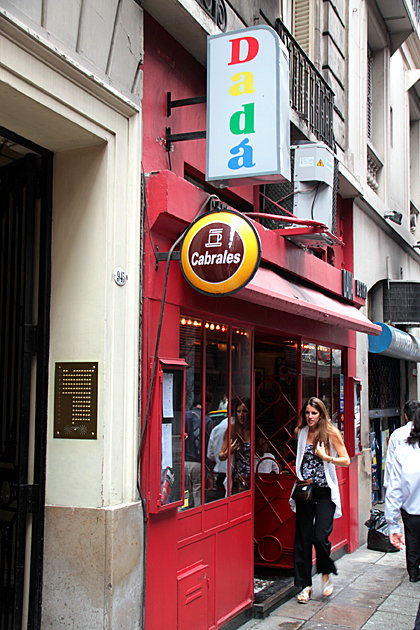 Everything inside Dadá is beautiful to look at, from the paintings hanging on the walls, to the brightly tiled bar. There's definitely a Parisian flair to the place. A huge mural inspired by Roy Lichtenstein hovered above our table, where we had sat down for lunch. Looking at the menu, I was mainly surprised by how affordable everything was. Dining in a artsy, hip bistro usually comes with a hefty price tag.
Our waitress took the time to explain all the plates, and offer suggestions. Great service is one of the most-praised attributes of Dadá in online reviews, and certainly was the case for us. More than just pleasant, our waitress was laughing and good-natured, and seemed genuinely happy that we were there. And when the food came out, a great experience got even better. The lomo steak was huge and perfectly cooked. All the portions were absolutely generous, and we left full and happy.
Check out Dadá if you find yourself in need of a great meal, around Plaza San Martín. They're open for lunch, dinner and evening drinks every day except Sunday. Given the size of the place, it's probably best to call ahead for dinner reservations.
San Martín 941
Tel: 4314-4787
Location on our Buenos Aires Map