Status – Peruvian Restaurant
"You're right! That is totally Russell Brand! I don't know, maybe he's here for a movie premiere? He's going outside for a smoke, I'm going to follow him!"
I returned about 30 seconds later. It totally wasn't Russell Brand enjoying a meal in the popular Peruvian restaurant Status with us, just a hip porteño doing a good job of capturing his look. With the distraction gone, we could get back to concentrating on our incredible food.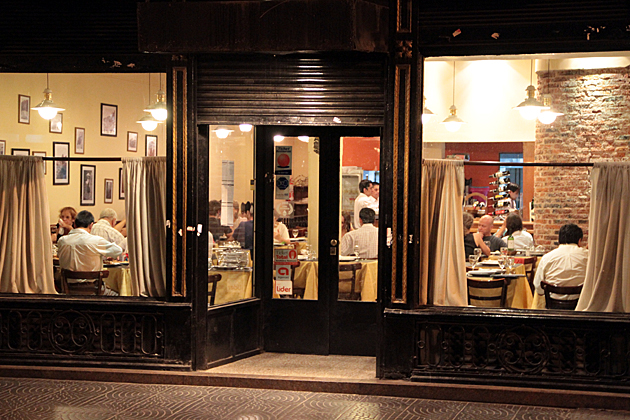 There are a number of Peruvian restaurants in Buenos Aires, but the one which came most frequently recommended to us was Status, near the Plaza Congresos. With huge portions, an unpretentious atmosphere, Russell Brand lookalikes, and unbeatable prices, it's easy to see why so many people love it. The best sign: it's frequented by Buenos Aires' sizable Peruvian population.
Although the most popular plate is the ceviche (raw fish), I went for the carapulcra: a flavorful beef and potato stew with garlic and other spices served with rice. Love. The amount of food was tremendous, and we were glad not to have ordered appetizers, though we did save room for dessert: Suspiro de limeña, The Lima Woman's Sigh, made of dulce de leche with a topping of meringue.
If we ever choose to live in Peru for 91 days, a huge reason will be because of the cuisine. A blend of European, Asian and indigenous foods, which is unlike any other country's. Status is a great place to try it out.
Virrey Cevallos 178
Tel: 4382-8531
– Great Souvenirs: Framed Buenos Aires Photos