Las Pizarras – Go to the Head of the Class!
When I consider the word chalkboard, my head instantly seizes up with all sorts of negative connotations. My brain thinks "school", my nose remembers the stale stench of erasers being pounded together, and my ears… the unbearable screech of a bad piece of chalk scraping uselessly against the slate. Awful.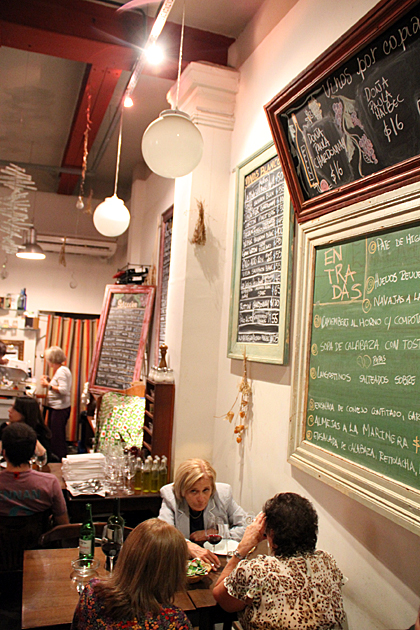 Pizarra is Spanish for "chalkboard", so when I discovered that we were on our way to meet friends at Las Pizarras, I went into a semi-catatonic shock. NO|FORK|CHALKBOARD|NO|FORK|NO But there was no reason to fear; the restaurant provided one of the most pleasant dining experiences we've had in Buenos Aires.
From the moment you ring the doorbell, and the door is opened, Pizarras is all about charm. The dining area is small and the menus are found on the huge chalkboards which cover the walls. The wine card was right above us, desserts behind us to the left, and entrées across the way. It was a novel way to present the menu, and blended seamlessly into the thoughtful, tasteful decor of the restaurant.
The food was delicious. I stuck to seafood, with an appetizer of razor clams (navajas) and a main course of shrimp risotto. Juergen went with pumpkin soup and steak, and the girls we were with had pasta dishes. In the end, we all ended up sharing off each other's plates; it's really a mark of a great restaurant that I couldn't say which of our meals was the best. All of us left full and happy.
The prices weren't even bad, especially for a chic restaurant in the middle of Palermo. Make reservations, and head over to Las Pizarras. You won't be sorry. And if you even think about being "that guy", who thinks it's funny to stand up on his chair and drag a fork against one of the chalkboards, know this: I will hunt you down. And I will find you.
Las Pizarras
Thames 2296
Location on our Buenos Aires Map
All the restaurants we visited in Buenos Aires