Serving up cheap eats with quick and friendly service, La Morada is extremely popular with the lunchtime business crowd. Found near the Plaza de Mayo, the restaurant specializes in classic Argentine fare, such as empanadas, locro and tartas.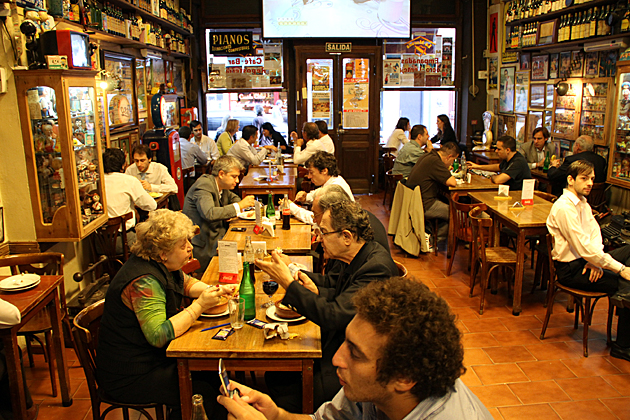 The decoration of the small restaurant is kitsch taken to the nth degree. Glass cases hold hundreds of miniature collectible figures. Posters of old comics and 70s surf records adorn the walls, and a projection TV shows old Hanna-Barbera cartoons. It's amusing to see suited businessmen, intensely watching a Loopy DeLoop cartoon, while chowing down on empanadas.
Our waiter was friendly, and happy to attend to all our questions. At one point, a poor girl of about 7 years of age entered, trying to sell stickers to customers. Instead of shooing her away, the waiter offered her an empanada, which, to our amazement, she refused. So he handed her a couple pesos instead. Those she snatched away without a word of thanks.
If you're in the mood for a quick, typically Argentine meal, hunt down La Morada. We really enjoyed it.
Hipólito Yrigoyen 778
Location on our Buenos Aires Map
Tel: 4343-3003