The Palacio de Aguas Corrientes
An intricately detailed, 19th century building spanning the width and length of a block in Balvanera, the Palace of Running Water must be the world's most impressive clean water pumping facility. I can't imagine it even has a competitor.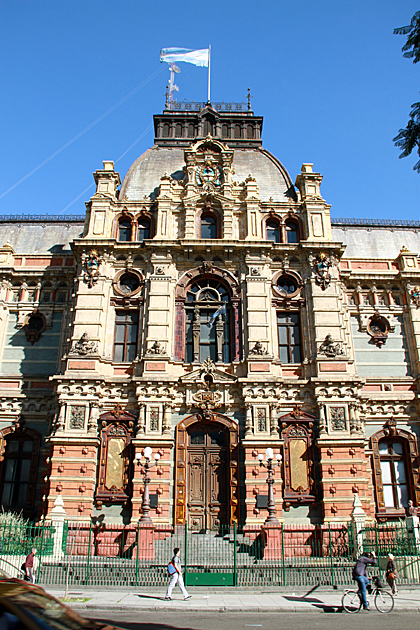 At the time of its construction, Buenos Aires was the only city in Latin America with clean running water, and the jaw-dropping palace was intended as a celebration of the city's surging wealth modernity. Who cares if it's just a shell for twelve massive water tanks? Why shouldn't a shell be beautiful?
They went all out. The French Renaissance style building boasts over 300,000 multi-colored bricks and terracotta tiles, and occupies an entire city block. The rich ornamentation includes columns, turrets, mosaics and sculptures of flowers, fruits, and shields which represent the fourteen Argentine provinces. Almost everything was produced in Europe. The tin roof hails from France, the bricks from Belgium and the gorgeous terracotta tiles were elaborated by London's Royal Daulton ceramics maker.
The offices of Argentina's water company are today found inside the building, along with a courtyard and the old tanks. You can take a tour of the premises and visit a small Museum of Water, on weekday mornings.
Palacio de Aguas Corrientes
Riobamba 750
Location on our Buenos Aires Map
Tel: 6319-1104
– Architecture in Buenos Aires