Going to the Movies – Buenos Aires Cinema Guide
Visit our Movie Recommendation Site Criticker!
Buenos Aires has a booming film industry, so it's unsurprising that there are a number of awesome cinemas in the city. Here are a few that we've visited during our time in the capital.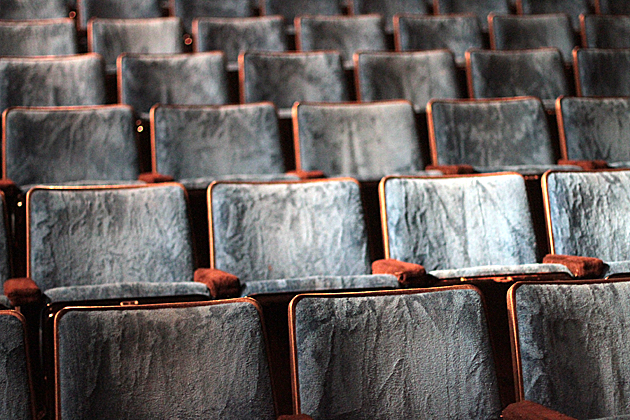 Teatro Premier
Showing a wide range of films from Europe, the US and Argentina, the Premier Theatre is one of the most classic cinemas in Buenos Aires. Found in the theater district on Av. Corrientes, the concave art-deco facade from 1944 is definitely a standout, with its laurel-bearing statues standing guard. When we visited, the facade was unfortunately covered by scaffolding and advertising, but no bother: the cheap tickets made up it.
Location on our Buenos Aires Map
We saw: Baarìa
Cine Gaumont
Found on Plaza del Congreso, the Cine Gaumont is run by INCAA — the National Institute of Cinema and Audiovisual Arts — and only shows newer Argentine movies. It was built just a couple years after the Premier, and enjoys a similar, classic feel. If you're in the mood for a little Spanish practice, this is a great place to see the best films that Argentine cinema has to offer.
Location on our Buenos Aires Map
We saw: Sin Retorno
Cinemark – Puerto Madero
Art-house, schmart-house, give me some Hollywood blockbusters! When you're in that mood, you can head down to Puerto Madero for the modern Cinemark theater. Here, eight screens (including 3D) show brand new films in original language, with Spanish subtitles. They run a lot of specials; we took advantage of a 2 for 1 summer special, making the cost of entry about US $3.50 apiece. Not bad.
Location on our Buenos Aires Map
We saw: True Grit
Lorca
Smack dab in the middle of the theater district on Corrientes, the Lorca feels like the kind of cinema your groovy parents probably went to back in the 70s. Everything about this place screams retro, from the crazy brown color scheme to the carpets, and the somewhat outdated projector. Right next to the Uruguay Subte stop, the Lorca is easy to reach, and features new releases. Though, classic films like Shaft would feel more appropriate.
Location on our Buenos Aires Map
We saw: Winter's Bone
La Ventana Indiscreta
La Ventana Indiscreta Bar Cultural — named after the Spanish translation for Alfred Hitchcock's Rear Window — is a cool little club which plays a single film a week, always something classic; always something that you should have seen as a self-respecting cinema geek, but haven't yet. Even when movies aren't being shown, it's a cool bar to hang out in and, with the University of Cinema so nearby, always populated with hip young porteños.
Location on our Buenos Aires Map
We saw: Le Beau Serge