Caballito – The Middle of the City
The geographic center of Buenos Aires is Caballito, a charming neighborhood with large green spaces, and well served by the Subte. Although it's not on the top of the normal tourist itinerary, this barrio has enough highlights to make it worth a trip.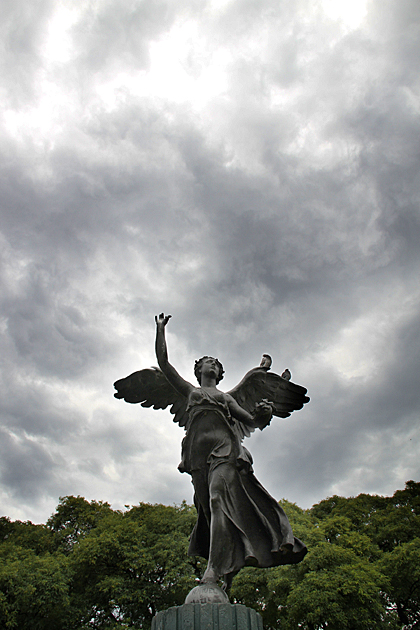 We began our excursion at the perfectly round Parque Centenario, designed by master urban planner Carlos Thays (also responsible for the Jardín Botánico). Though the park looked cool enough, we happened to arrive at the same time as a massive thunderstorm, and sought shelter in the Natural History Museum.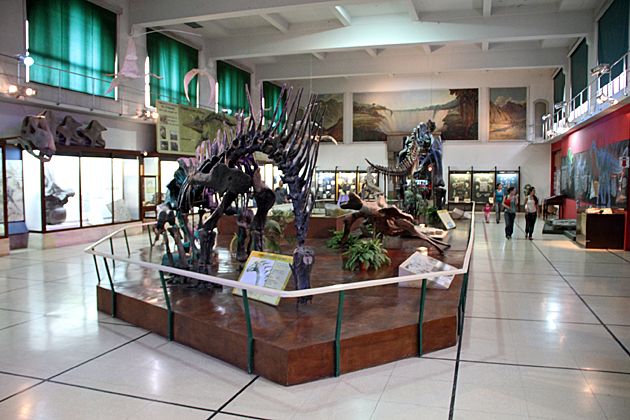 Along with approximately 39,403 screeching Argentinian rugrats, we drip-dried while looking at fossils, animal replicas and fish. The focus was on on native Argentine fossils and dinosaurs, such as the giant glyptodon, and it was fascinating to see the differences between prehistoric life here, versus in the USA. Their prehistoric monsters seem cuter, somehow. Though we hadn't planned on a visit, the museum was a fun place to escape the rain. But if you're allergic to children, you might want to stay away.
Once the downpour ceased, we walked along Avenida Rivadavia, a boisterous shopping street. It was a nice alternative to the more famous and ultra-touristy shopping zones in Retiro, with stores of comparable quality. And it was relieving to be surrounded by Argentines who weren't continually shoving Tango Show fliers into our faces. We walked past the Parque Rivadavia, and browsed the offers at a second-hand book market. I bought an old Superman comic for a few pesos, and then sat down for a drink in El Coleccionista, a bar notable which still serves as a meeting place for different groups of collectors.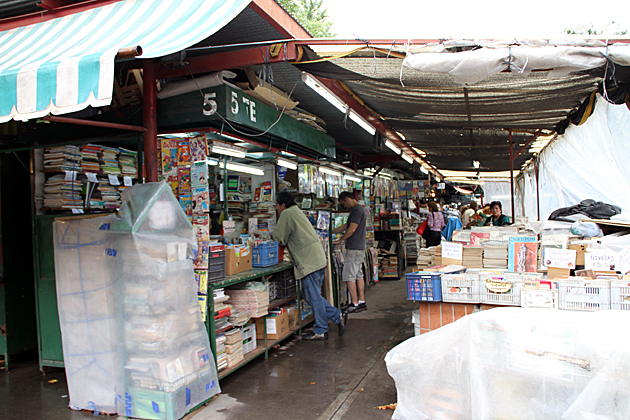 Fully rested, we ventured onto the other side of Calle Rivadavia and into the Mercado del Progreso. Behind its wonderful art deco facade is a lively goods and produce market, which has been a staple of the neighborhood since 1889. It was cool but we didn't spend much time inside; the day was getting late, and we didn't want to miss out on an historic tram ride.
The Tranvía Histórico de Caballito offers free trips around a small section of the neighborhood. Until 1963, trams had been one of the primary modes of transportation in Buenos Aires, linking the city's 48 barrios to one another. Out-of-use tracks are still visible in between the cobblestones of many of the older streets, and the Asociación de Amigos del Tranvía seeks to remember this history by operating one last route. It's a fun ride; a quick 20-minute trip into the romantic past.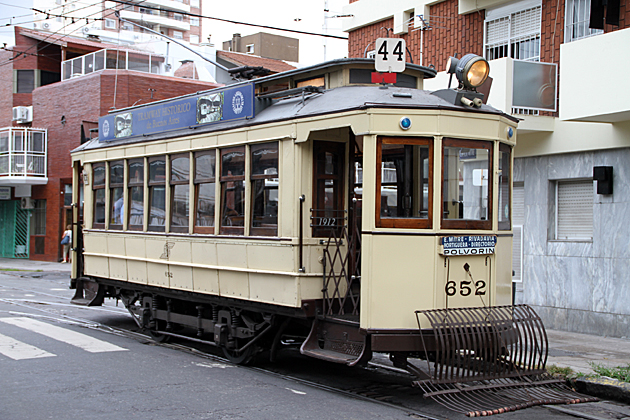 The tram skirts around a section of Caballito known as the Barrio Inglés, long one of Buenos Aires' most fashionable residential areas. The small area occupies just a few blocks, and has somehow survived intact into the present day. Built in the late 1800s as homes for British train executives, the Georgian- and Victorian-style houses are gorgeous, and cost a small fortune. This is one of those areas in Buenos Aires where vigilant security guards will watch your movements carefully.
Enjoy our pictures of Caballito! We're making an effort to explore some of the less well-charted areas of Buenos Aires… if there are other great neighborhoods which not many tourists get to see, let us know!