Punta Brasas – Not Bad in a Pinch!
It was a Sunday afternoon, and we were stomping angrily around Palermo Hollywood looking for a place to eat. The restaurant we had wanted to go to was closed, and we had no backup plan. One of the bad things about eating in Buenos Aires is that restaurants have irregular schedules… Mondays, Sunday afternoons, Tuesday nights, closed. Advance research is always a smart idea. But one of the good things is that there's usually another great option around the corner, regardless of where you are.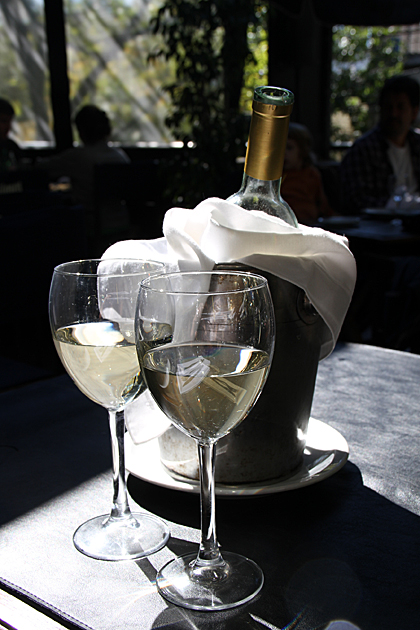 Before we even got two blocks away, we encountered Punta Brasas on Bonpland and Honduras. We grabbed a spot on the upstairs terrace, and sat down for an excellent meal. I had a Caeser salad, and Jürgen ate stuffed chicken. The service was good — our waitress was there when we needed her, but stayed out of our way generally — and the prices were fair. Sitting in the sun with a bottle of white wine cooling in a bucket, and great food in front of us, it was difficult to be anything but happy.
But we almost didn't go! It was a typically porteño scene: as we were approaching Punta Brasas, the door girl approached us on the sidewalk. "Looking food? Come in! So nice!" This is such a turn off. Even though we had planned on going there anyway, we almost turned around out of principle. Why do so many restaurants around the city employ this pushy tactic? Does anyone actually ever say "okay"? If anything, I have to believe that it drives business away.
Puntas Brasas
Bonpland 1694
Location on our Buenos Aires Map
Tel: 4776-2784