A Sixteen Course Feast at La Vineria de Gualterio Bolivar
Make sure your mind is open and taste buds in fine working order before you sit down at La Vineria de Guaterio Bolivar, on Calle Bolivar in San Telmo. Dinner is a set menu, with sixteen highly creative dishes served over the course of three hours.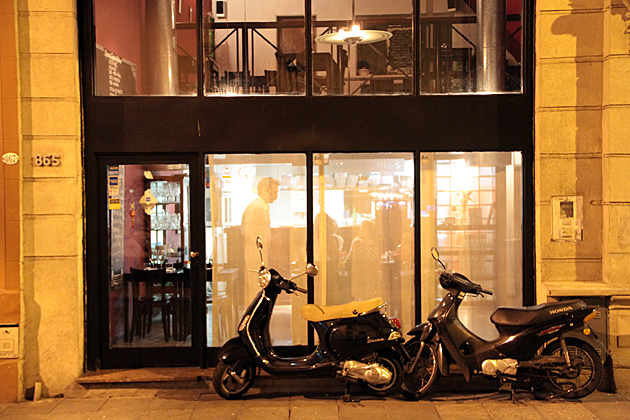 And I do mean creative. How else to describe lamb tongue pate wrapped in pumpkin slices? Or frozen salmon balls? Or olive oil emulsions and meat topped with foam? We were continuously amazed; each of the sixteen courses set in front of us was a tiny marvel, some tastier than others, some more clever, but all unique. Every time our waiter (who resembled a handsome version of Borat) would approach our table with a new tray, I'd get a little fidgety. Nervously excited about what I was about to consume.
After setting down each carefully arranged plate, the waiter explained the ingredients, a bit about the preparation and concept, and how to go about eating the dish, which was not always as straightforward as put-fork-in-mouth. He also served wines; the menu allows you to sample Argentine wines appropriate to the food you're eating. We had delicious whites with the appetizers, dry reds with the meatier dishes and sweet wines with dessert.
This wasn't so much "dinner" as a cultural experience. Jürgen and I are in no way gourmets, closer to McDonald's than Michelin, but we really loved our meal at La Vineria de Gualterio Bolívar. Though each of the plates was tiny, we left full and satisfied. The set menu is pricey, but definitely fair given the extraordinary amount of creativity in the food and the attention of the staff.
The restaurant is small and well-known, so make reservations if you want to go, and show up promptly at 9pm. All the guests are served at the same, so that the cooks can fully concentrate on one dish at a time.
La Vineria de Gulaterio Bolívar
Bolívar 865
Tel: 11 4361 4709
–Download our Buenos Aires Travel Book
More La Vineria de Guaterio Bolivar Photos