San Telmo's Sunday Antiques Market
On any day of the week, San Telmo is the best spot in Buenos Aires to go antiques-hunting. Dealers hawk everything from chandeliers to ancient books in shops which blanket the neighborhood. But the Sunday antiques market in Plaza Dorrego has become a phenomenon; all San Telmo comes out to party along with thousands of visitors in a celebration of curbside capitalism.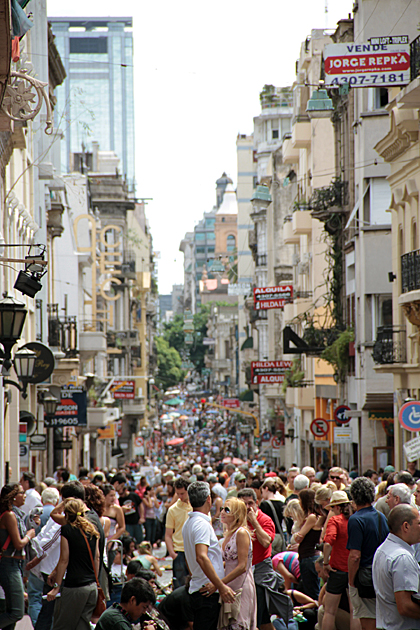 Walking around the antique vendors' stalls in Plaza Dorrego is a treat, even if you're not planning on purchasing anything. Old soda bottles, copper cookware, matecitos, vintage telephones and collector matchboxes are just some of the treasures on offer. The prices are fairly high, but the quality is top-notch. Because there are more antique dealers in San Telmo than stalls at the market, a weekly lottery determines who gets the right to set up shop. Organizers are strict about their rules, which dictate that all actually be antiques, and that the owners be physically present at the stands.
The antique dealers are confined to the plaza, but shopping continues for at least six blocks down Calle Defensa, where artisans and craft-workers hock on the curb to sell their wares. We've found a number of great gifts here, including a hand-crafted teddy bear for a niece and individually designed t-shirts. And the prices are so good, you'd feel guilty about haggling. Tango bands play on the corners, and everyone's hanging out and talking, drinking mate and bumping into friends.
Proceedings become more festive as the sun goes down and a group of bongo-drummers begins to parade up and down Defensa, encouraging onlookers to join in. I must not have any Brazilian blood in me, because I'll never understand the whole bongo thing. Anyone can play bongo drums, and sound somewhat competent. You don't actually need dreadlocks. But it doesn't matter that bongos are relatively ridiculous, because man do the girls love them! Once those rhythms start, control goes out the window. So, guys, if you really want to impress the ladies, forget nice clothes and expensive cologne. Just grab a bongo drum, skip the shower, and throw on a ratty Bob Marley t-shirt.
Meters from the makeshift parade, a popular milonga gets underway around 9pm in the plaza. With great music and an ample floor filled with dancers of all skill levels, it's the perfect place to show off your tango moves.
Plaza Dorrego on our Buenos Aires Map
– Great Hostels in Buenos Aires