Surely the strangest building in Recoleta is the futuristic Biblioteca Nacional, a wildly modern structure near the staid Museum of Fine Arts.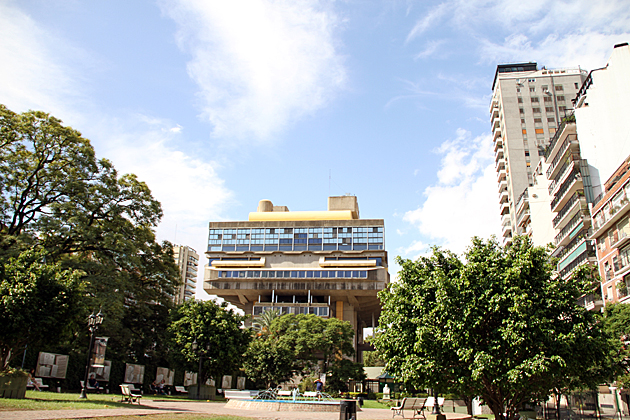 Argentina's national library has moved around a lot since its inception in 1810. First, it occupied a building in Montserrat's Manzana de las Luces (Illuminated Block), which has become a cool place to go souvenir shopping. A century later, the library moved into a new building on Calle Mexico, originally designed for the National Lottery. We took a peek inside. It's now the national center for music, but the guard allowed us into the lobby, and pointed out curious design elements like lottery balls worked into the stair railing. Jorge Luis Borges worked in this building after being appointed director of the library in 1955.
The current building wasn't opened until 1993, a date that I first assumed must be wrong. The bold, gray Brutalist-style construction feels straight out of the 1960s. And indeed, that's when the mammoth structure was actually designed. But work suspensions, budget restraints and politics plagued construction for over 30 years. By the time it opened, the audacious new building was already long-since architecturally outmoded.
Still, it's an impressive block of concrete, and the exterior patio offers a great view over Recoleta. There's a nice cafe below, and the library offers daily guided visits, often in English. Among the treasures you can see inside the library are a first-edition of Don Quijote and a Gutenberg Bible from 1455.
Location on our Buenos Aires Map