Bodegón El Obrero in La Boca
Without a doubt, one of the most enjoyable meals we had in Buenos Aires was at El Obrero, a classic bodegón in La Boca.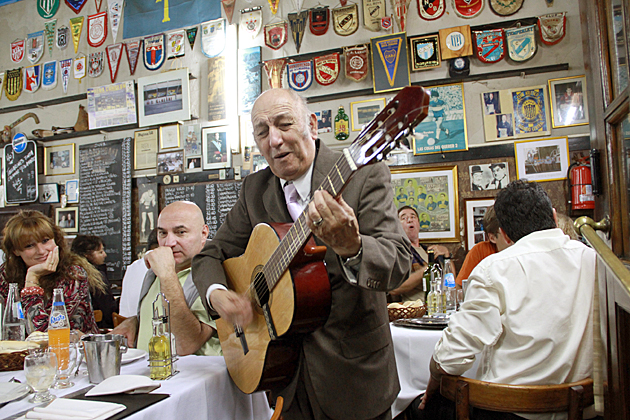 We went to El Obrero with friends on a warm Friday night, and had a blast from the moment we stepped inside. The place was a madhouse. Every table was full, with kids running between chairs, waiters zipping swiftly past, large Argentine families shouting at each other across long tables stacked with food. We took our seats and opened up the menu. The prices were out of this world, and we felt no compunction about ordering way too much. Calamari, mozzarella sticks, salmon, lomo. Everything was cooked perfectly, and we took our time with the meal, absorbing the atmosphere of the restaurant.
The waiter was friendly and attentive, a guitar player wandered around serenading tables, and there was a general buzz of merriment. We followed the example of the Argentines surrounding us, becoming gradually louder and more exuberant over the course of the evening, drinking wine and stuffing ourselves to the breaking point on the generous portions.
Found in a seedy section of La Boca, El Obrero isn't the place to go for a fancy, buttoned-down evening with a new girl. But if incredible food and the boisterous atmosphere of a charming porteño bodega sound good, don't pass it up. El Obrero is one of our very top picks in the city.
El Obrero
Agustín R. Caffarena 64
Tel: 4362-9912