Buenos Aires' Notable Bars – El Federal
One of the best parts of moving to a new city is deciding upon your favorite new bar, the place you plan on haunting with a disturbingly constant presence. Buenos Aires has assisted newcomers on this all-important quest by honoring 60 bars and cafés with the distinction of Bar Notable.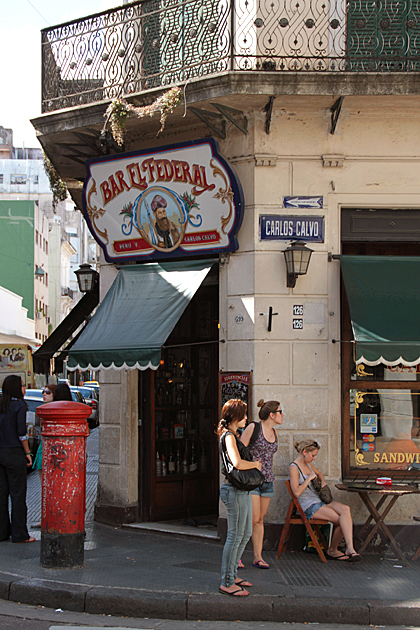 These places have been chosen for their long years of service, architectural flair, or famous patrons, and can officially advertise themselves as "Notable". Most of them are found near the center of the sprawling city, and we've yet to visit one we haven't been impressed by. That goes particularly for El Federal, on the corner of Peru and Carlos Calvo in San Telmo, which immediately established itself as a front-runner for the glorious title of my favorite bar.
Stepping inside El Federal is like stepping into back into the early 20th century, when Buenos Aires was in its golden age. The decoration is ornate, and well-stocked shelves hold antique soda bottles. The gorgeous wooden bar is over a hundred years old, and supports a large, fluidly carved arch, in which a defunct clock and stained glass are encased.
For being such a famous establishment in prime touristic real estate like San Telmo, the prices are amazingly reasonable. El Federal has a full menu, and we enjoyed everything we've tried; the plate of picadas (slices of meats and cheese) is an especially good choice. There's both a smoking room and outdoor seating, but I always choose a table close to the bar, so that I can spend my time thirstily admiring the bottles of whiskey.
El Federal is the kind of place in which you'll want to spend hours, and they don't mind if you do. In fact, a small shelf of reading material is available in the corner. Digging into a well-worn copy of Borges' Ficciones, with a strong cup of coffee on the wooden table in front of you, while the bustle of city life passes by in the window… that's about as "bonarense" as you can get.
– List of Hostels in San Telmo