One of the world's best opera houses is found in Buenos Aires. Built in 1908 at the height of the city's Golden Age, the Teatro Colón is a grandiose testament to the rivers of money that once flooded the Argentine capital.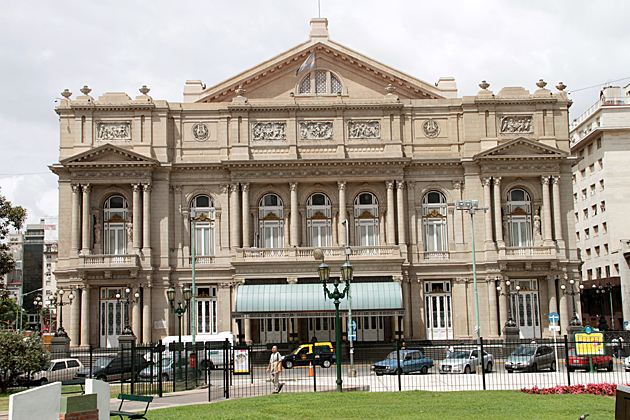 After a much-delayed renovation that had closed the theater for over four years and cost over 100 million dollars, Colón re-opened in May, 2010, and a tour of it was one of the first things we did in Buenos Aires. We were floored. The Teatro Colón is one of the most gorgeous buildings I've ever been in. Suddenly, and for the only time in my life, I'm dying to see an opera.
The French Renaissance building on Plaza Lavalle is impressive enough from the outside. But we were totally unprepared for the magnificent interior. Our English-language tour began in the theater's foyer, with stained glass windows on the ceiling that depict allegories of music and mirth, antique statues and polished floors exuding pure elegance. Our guide pointed out the staircase, made of three different kinds of marble, and asked us to imagine wealthy turn-of-the-century ladies ascending to the theater, gowns flowing behind them while admiring on-lookers watched from the balconies. He described it well, and the scene was surprisingly easy to picture.
As awesome as the foyer was, the theater was even better. With five rows of golden balconies arched around the stage, it's little wonder that the Colón is considered among the world's most beautiful. It's also said to have some of the best acoustics in the world. We sat for awhile, taking it all in, while the guide pointed out peculiarities like the President's box toward the side (which provides the President with a terrible view of the stage, but the public with a great view of her). Also interesting was a row of seats hidden behind a black grate, beneath the lowest balcony, for recently bereaved widows. Not even mourning could hold the cultured elite away from their operas!
We plan on catching a performance of some sort in the Teatro Colón during our time here. If you have the chance, make sure to take the tour of the theater. Really, an incredible piece of work.
–Dwonload our Buenos Aires Book Here
Location on our Buenos Aires Map