Pizzería Banchero in La Boca
"Hey, what do you feel like eating?" Every time I've been asked that, every single time during the course of my entire life, the answer has been "pizza". Even when it was 8am. Even when I was 18 months old. It's the only honest response: there are other things I should eat, things which might even taste better. But pizza is what I want to eat. Always.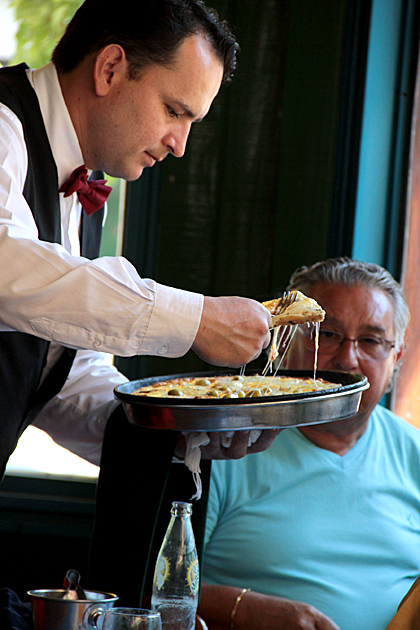 So you're asking me what I want to eat? Well, I know we just had pizza last night, but there's another famous pizzeria right across the road, there. We really should try it out. Everyone says we should try it out. Don't look at me like that; it's totally coincidence that we happened to end up in front of Pizzería Banchero at lunch time. I totally didn't plan that.
Banchero is a classic spot in La Boca, established in 1932 by Juan Banchero, the son of a Genoese baker who had emigrated here at the turn of the century, along with thousands of his countrymen. The restaurant quickly became a hit, and a couple branches have even opened elsewhere in the city. It's immediately apparent why Banchero is so loved among porteños — the prices are great, the atmosphere is casual and comfortable, and the pizzas are astounding. We ordered a fugazza, made with a crunchy, airy crust and topped with onions and mountains of cheese. Delicious. Plus, the service was great; our impeccably-dressed Paraguayan waiter was as friendly as could be, taking time to explain the pizzas to us and make recommendations.
If you're in La Boca, and have survived the tourist hordes of El Caminito, treat yourself to a great pizza in a time-honored joint that locals love: Pizzería Banchero. And don't worry about all that cheese. Diets are for later, and firm bellies are over-rated, anyway. That's what I keep telling myself, as we continue to tick Buenos Aires' "must-eat" pizzerías off our list.
Suárez 396 y Brown
Tel: 4301-1406
–Another great pizza place in Buenos Aires: El Cuartito