With its brightly painted houses and open air art, the southern immigrant neighborhood of La Boca is both enchanting and irritating. How much you enjoy yourself depends on when you go, and how allergic you are to kitsch.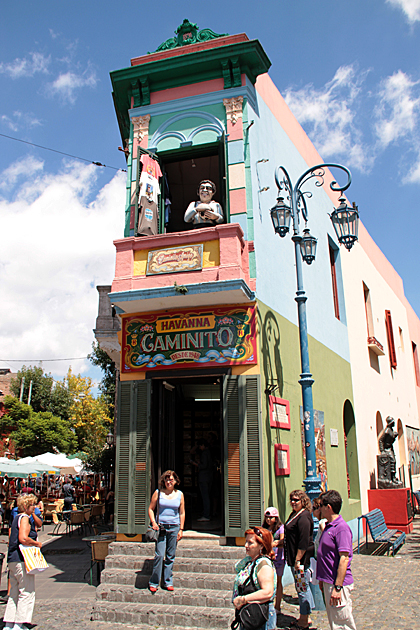 La Boca was settled by Italian immigrants, mainly from Genoa, and became a tourist draw in the 20th century when local artist Benito Quinquela Martin decided to bring life into his stagnating neighborhood by creating El Caminito: a tiny street which exhibits the best of La Boca: tango, brightly colored buildings and quirky art. Today, El Caminito is one of the most heavily visited places in Buenos Aires.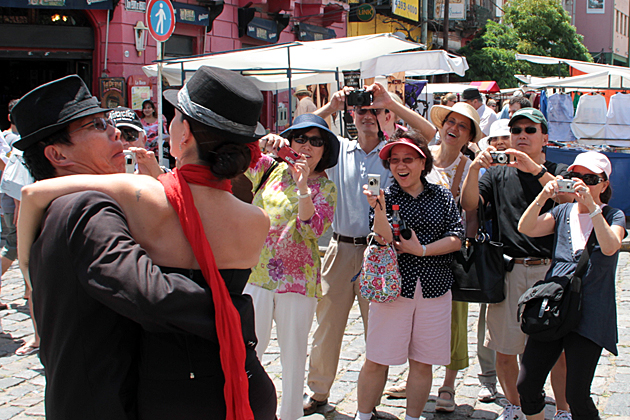 We went on a Sunday afternoon, which proved to be a mistake. Thousands of tourists were stepping out from hundreds of buses shielding their eyes against the bright sun, crushing our feet, stumbling into our pictures, smacking us with their fanny packs, and crushing our souls. Their flashing cameras and mindless mirth brings out the worst in La Boca's locals. Every couple meters someone tried to hustle us into a store, sell us some piece of junk, or wrangle us into a picture.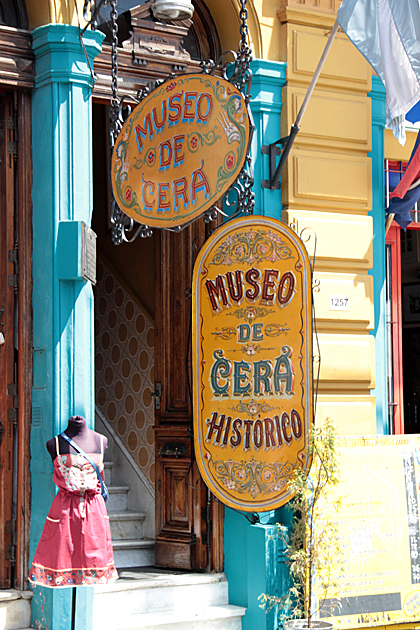 To escape the crowds, we ducked into the Wax Museum. We didn't expect much, but were pleasantly surprised. Very small and cheap, and the exhibits did a decent job of introducing Argentine history and culture. Besides, one can never see enough wax anaconda dummies.
In 1882, residents of the neighborhood seceded from Argentina and declared the República de la Boca; it was a short-lived rebellion, but the spirit of independence remains. La Boca associates itself heavily with Boca Juniors, the working man's football team, whose blue & gold color scheme dominates the streets.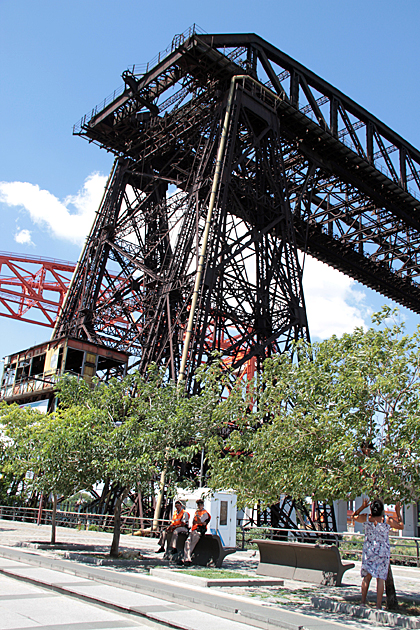 The main tourists sights in Boca center on the Vuelta de Rocha, where the Riachuelo river curves briefly inland. It's an interesting geographical phenomenon, but the lack of movement in the water and the heavy industry all around lead to an often unpleasant smell. Depending on which way the wind is blowing, a walk along the river promenade can either be charming or nauseating.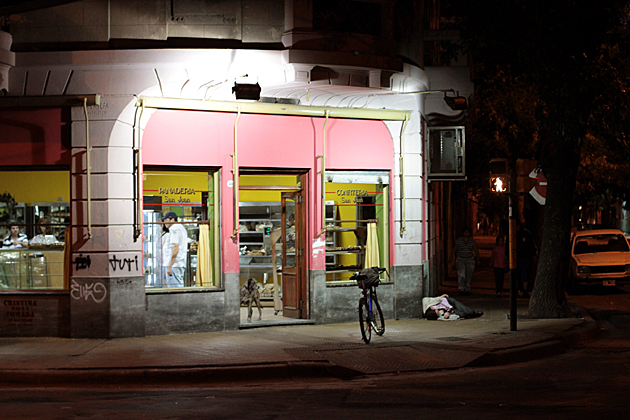 Once you get away from the Vuelta, La Boca shows its less friendly side. In the barrio's east, painted houses more authentic than those of the Caminito abound, but crime is frequent. Poverty is widespread and, if you must pass through at night, you'll want to get a taxi. Four different concerned locals warned Juergen to keep his camera hidden, during the hours we spent there.
La Boca is an interesting place, home to utter destitution and crass touristic exploitation, but also possessing a unique, working-class spirit which makes it one of the must-see areas of BA.
La Boca on our Buenos Aires Map
– Hotels Around La Bombonera Stadium