The Unbeatable Ice Cream of Buenos Aires
From across the Atlantic, Argentina sounds out the challenge to its frumpy ancestor Italy. "Hey, you think you got good pizza? How you like these fugazzas? Oh, you're proud of your famous Italian ice cream? LOL! Nobody but nobody beats Buenos Aires for ice cream! Student becomes the master, punk!"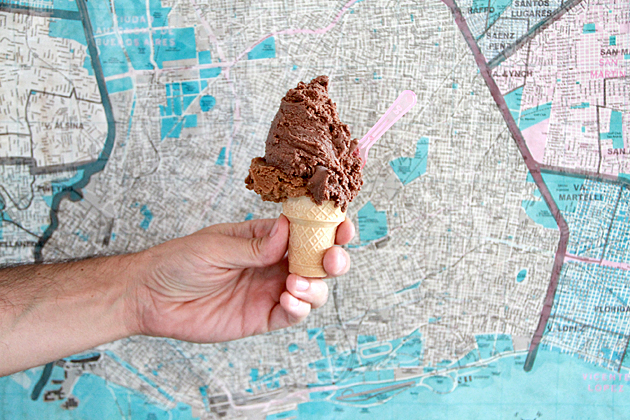 Until we spend 91 days in Italy, I won't dare render a verdict in this competition, but Buenos Aires makes a strong case for itself. The pizza here, as we've said more than a few times, is amazing. And the ice cream… well, it might even be better.
Helado shops dot nearly every corner of the city, and porteños are rightfully proud of how good their ice cream is. Regardless of how full we've just stuffed ourselves at dinner, a pit stop for ice cream always seems like a good idea. The most typically Argentine flavor is Dulce de Leche. Creamy and almost sickeningly sweet, every shop offers it, as well as variations on the theme. Dulce de Leche with Brownies. Super Dulce de Leche. Dulce de Leche Fantástico.
That's not all there is to choose from. The selection of flavors at most shops is overwhelming, and I always try and sample something new. Around ten pesos will get you the smallest cone, but don't be fooled by its tiny size: the amount they're able to pack into it is remarkable. Generally, people get two compatible flavors in one cone… Dulce de Leche and Crema Rusa, Lemon and Raspberry. Most ice cream shops even have delivery services, which is both hilarious and awesome.
For my taste, Argentina basically wins the World Food Competition. Other countries may have fancier fare, but the staples of Argentine cuisine are: pizza, ice cream, steaks, coffee and wine. That's just tough to beat. It's kind of unfair.