Las Cuartetas – Pizza in the Theater District
We've already written about El Cuartito, one of the very first pizza joints we discovered in Buenos Aires. Las Cuartetas is similar in food, name and decor. But it's larger and, especially on a weekend night as the theaters of Calle Corrientes are emptying, much more boisterous.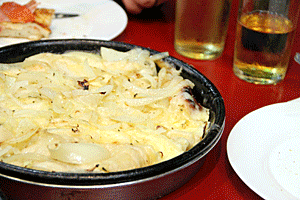 We took friends from Germany on the same Thursday night that Plácido Domingo put on a free concert at the nearby obelisk. The restaurant was full when we arrived and, after the concert ended, the insanity in Las Cuartetas ascended to a level I could scarcely believe. Unceasing rivers of people flowed through the doors, passing by our table, headed towards the back in search of seating. I don't know where any of them ended up; the restaurant was already packed to capacity when the flood started. The only explanation we could imagine was that they were exiting again through a door in the back, in an elaborate game to punk us. The line of people just kept filing past, like midget clowns piling into a car, and I swear I saw a few faces twice.
The pizza was incredible. Deep-dish, cheesy, greasy; everything we've come to expect of Buenos Aires' best pizzerias. But really, the food took a back-seat to the atmosphere inside Las Cuartetas. Every seat was taken, and people shared tables with total strangers. Old deaf couples munching down fugazzas next to lip-pierced alterno-kids drinking Fanta, everyone screaming to be heard. Most of the screaming was directed at the waiter. The dapper old gentleman had to deal with about 40 tables in our section, and did so with the utmost professionalism.
We had a blast at Las Cuartetas, and can definitely recommend a visit, especially when it gets crowded. If the idea of cheesy, unhealthy pizza in a raucous madhouse full of shouting Argentines sounds like a good time, you won't be disappointed.
Las Cuartetas
Corrientes, Av. 838
Location on our Buenos Aires Map