Pizza Stones – Do you really need them?
It took us awhile, but we finally made it to Kentucky Pizza, one of the most famous pizzerias in the city. People seem to either love or hate this place. One acquaintance told us it was absolutely the worst pizza around. Meh, we don't agree. But the main reason I wanted to go had nothing to do with pizza. My parents live in Kentucky, and I thought it would be funny to get a picture for them.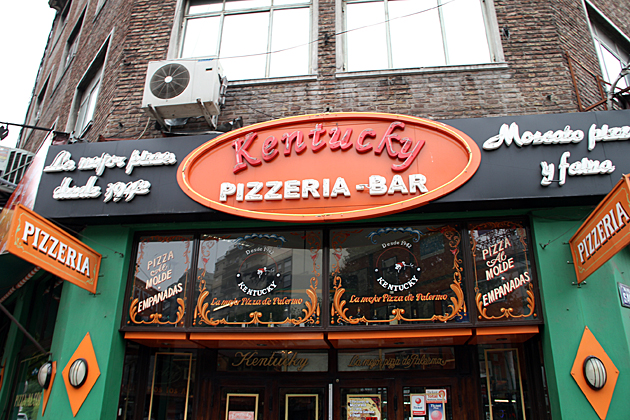 Kentucky is known for a lot of things: bluegrass music, horse racing, whiskey, tobacco fields. But pizza is not among them. I'm not sure why the founders chose the name "Kentucky" for their restaurant. Possibly, they hailed from the States, or it could have been an attempt to evoke the idea of the USA. Back in 1946 when Kentucky Pizza was established, the US was still the really cool country everyone else wanted to be!
Their logo is a racehorse, but it should be a fat man clutching his heart. Kentucky serves up classic Argentine pizza at its greasiest, cheesiest best. We ordered a fugazza and spinach pizzas, and left happy and full. Kentucky is famous for being open all night long, and is a favorite spot for hungry party kids looking for cheap drunk-food at 4am. But at any hour, if you're looking for a good porteño-style pizza that's easy on the wallet, don't hesitate to go in.
Santa Fe, Av. 4602
Location on our Buenos Aires Map
Tel: 4773-7869