La Poesía – A Great Place to Read, Drink and Relax
Classic: Read some Borges at La Poesía
With its shelves stacked with books, soda bottles and photographs from years past, La Poesía is a bar beautiful enough to truly deserve its name.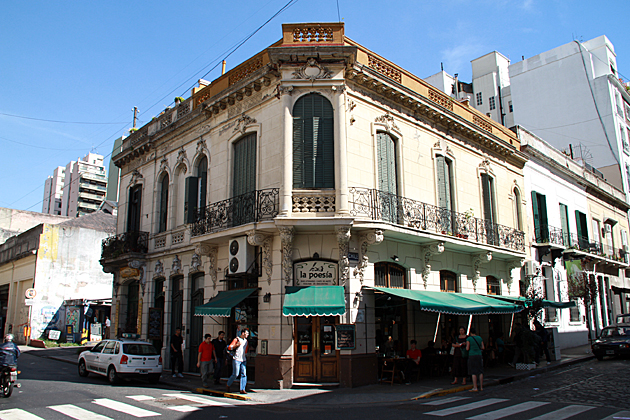 The café was originally opened in 1982, to celebrate the end of the military dictatorship and provide a place for Buenos Aires' intellectuals, authors and poets to congregate and discuss their renascent democracy. It was immediately popular, especially known for its sessions of Poesía Lunfarda, but the bar was closed after just six years. In 2008, the same couple who own Bar Federal restored the Poseía to life and helped reestablish it as a staple of the San Telmo scene.
I was in the place all the time, usually with a book. It has an atmosphere conducive to reading, with tango music playing softly in the background and a good selection of drinks. Unfortunately, the wait staff isn't always the friendliest. One girl in particular always greeted my arrival with a frown and an attitude; I couldn't for the life of me figure out what I'd done to her. And once, a waitress directed me to a table with a power outlet, watched me set up my computer, provided me with the Wifi code, then took my order. The internet didn't work and when I pointed that out, she was like, "Yeah. It's been out all day". But, couldn't you tell I wanted to use it? I even asked you for the access key! "Yeah. Well, you never asked me if the internet worked".
Regardless of the occasionally brusque service, there's plenty to enjoy at La Poesía. Leave your computer at home, and take a book. A book of poetry, if you must.
La Poesía
Chile 502
Location on our Buenos Aires Map