Sample the Wines of Argentina with Anuva
As anyone versed in such matters already knows, Argentine wine has been gaining in respect and influence over the past decade. Jürgen and I definitively aren't versed in such matters, so we've had some learning to do.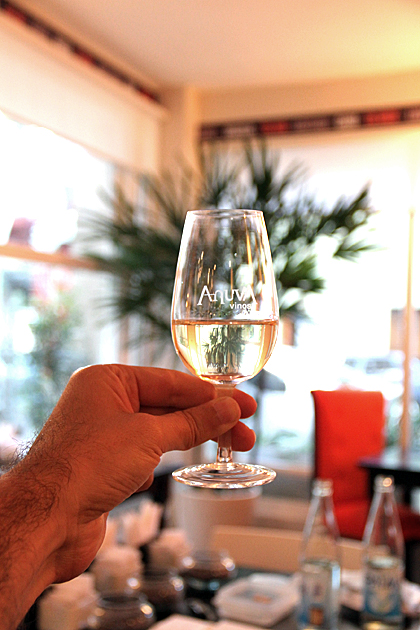 Basically my knowledge of wine is: I'm aware it's produced from grapes. So when we heard about Anuva, a wine tasting service in Palermo Hollywood, we thought a bit of education might be in order. For US$46 per person, Anuva offers a quick, personable tour through some of Argentina's best grapes, in an evening that includes great food and conversation.
We showed up for the tasting right on time, hosted in one of Palermo's many gorgeous hotels — the Rendez-vous. After introductions with the other guests, our sommelier wasted no time in popping open the first bottle. We tried five wines over the course of about 90 minutes, each presented with an accompanying plate of food. And the wines were all incredible. Anuva represents only small, artisan bodegas, and each bottle had an fun story behind it, such as the sparkling "Hom", made (and named) by a crafter who's into meditation.
The fact that we were beginners in the world of wine tasting didn't matter in the end. We were given a quick crash course in what to look for, by our sommelier (you'll have noticed, I just learned that word… so I'm going to give it a workout). From the bouquet to the richness of the color, our sommelier pointed out each wine's distinct elements, making the whole experience easy and fun. I'd never before heard of Bonarda, a black grape originally from Italy and almost unheard of outside of Argentina. I loved its heaviness, deep color and barely perceptible fruitiness… Look at that: I'm already talking like someone who knows what they're talking about! Our sommelier would be so proud. Sommelier.
As a compliment to the tasting, Anuva also offers a shipping service so that you can have some bottles delivered hassle-free to your home. The wineries have exclusive export contracts with Anuva, so these wines are otherwise impossible to find in the states.
The early-evening tasting makes a great beginning to the night Palermo. If you've got any interest at all in the wines of Argentina, definitely check it out.
Check out their Online Wine Store