Just around the corner from Palermo's Botanical Garden, the Evita Museum welcomes visitors with a big, toothy smile. We had been skeptical, but the quality of both the exhibits and the mansion won us over. The Museo Evita is really cool.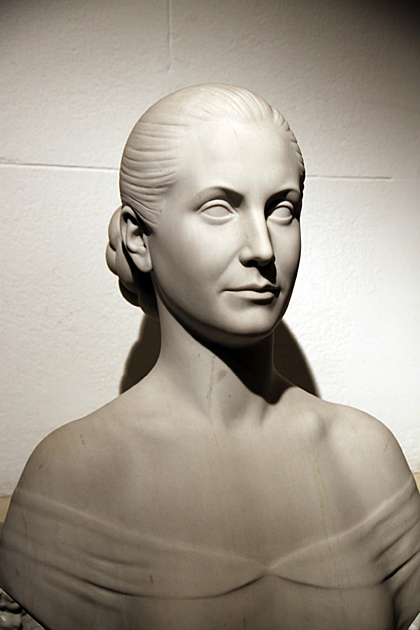 Perhaps my initial skepticism was due to Andrew Lloyd Webber and company. When I think of Evita, the image that springs to mind is Madonna squealing discordantly to "her people" from the Casa Rosada's balcony. I unconsciously associate Evita with over-the-top histrionics, and just assumed the museum would be as tasteless as the film.
But of course, María Eva Duarte Peron's story is fascinating and, as one of history's most important female political figures, she's well deserving of a museum. The moment we entered the three-story Italian Renaissance mansion, I knew it would be a good experience. Evita purchased the house in 1948 as a part of her Social Aid Foundation, using it as a temporary home for poor women to "shelter those in need and those who have no home… for as long as necessary until work and a home can be found…"
In July 2002, exactly fifty years after Evita's death, the museum opened to the public, and was an instant success. The exhibits are lovingly presented, and visitors learn about Eva's life from her humble beginnings in Junín, through her rise to power, and her unfortunately early death. It's almost entirely propaganda: you're not going to find anything inside the museum about the darker sides of Juan and Evita's rule. You can marvel over her fabulous dresses, but the very serious allegations of the couple's fascist tendencies are politely left to the side.
But whatever. This is a place to remember and appreciate Evita's positive deeds. You can get a sober analysis of history from books. And if you do happen to have a book with which you'd like to spend some time, you'll be hard pressed to find a better place to do so than the museum's cafe. With a gorgeous patio accessible from the street, you don't even have to pay entrance to enjoy it.
Location on our Buenos Aires Map