The Obelisk and the Avenida 9 de Julio
Selection of Buenos Aires Travel Guides
Avenida 9 de Julio, which cuts north-south through the city is one of the world's widest avenues. Where it intersects Calle Corrientes, the city's most emblematic symbol shoots grandly into the air: the Obelisk of Buenos Aires. The phallus-shaped monument is the perfect symbol for a country that so proudly basks in machismo.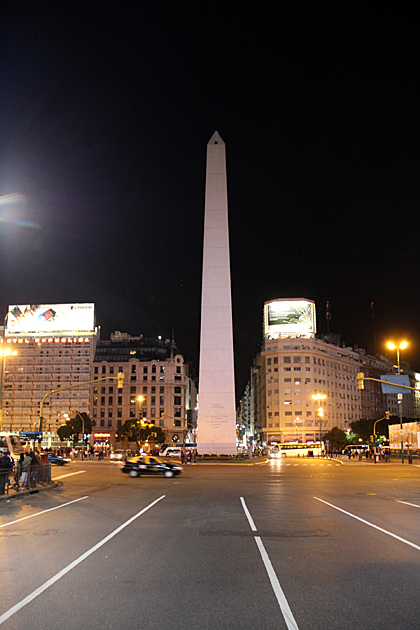 My, that's quite an impressive… monument you have there, Argentina! Reaching 67 meters in height, the obelisk was built in 1936 by German engineers to celebrate the 400-year anniversary of Buenos Aires' founding. Throughout the years, it's been the scene of protests, vandalism, concerts and speeches. During Isabel Perón's tyrannical presidency, a banner was hung on the obelisk that read "Silence is Healthy". Ostensibly a message to keep traffic noise down, it was actually a thinly veiled warning that it might be smart for political opponents to keep their trouble-making mouths shut.
Crossing the street to get to the obelisk is an exercise in bravery. The Avenida 9 de Julio, at 140 meters of width (460 feet), is insane, with four separate lights to get across the street, and about 20 lanes of traffic. Well, "lanes" is an abstract term, as nobody pays the slightest bit of attention to the lines painted on the pavement. Cars weave in and out, passing perilously close to one another at speeds that make you sick. Velocity is the name of the game for pedestrians, as well: if you want to get across the avenue in one go, you have to jog.
Loud, crowded and stressful, I wouldn't want to spend a whole day near the avenue, but every time I had to cross it, I became energized. With the obelisk towering high overhead, and cars zooming recklessly by on all sides, it's tough not to be impressed.
Location of the Obelisk on our BA Map
– Hotels, Hostels and Apartments in Buenos Aires