Looking for great Travel Insurance
The city tourism board's initiative to honor a set of sixty bars and cafés as bares notables provided us with a cheat sheet of places to hit up. Buenos Aires has a historically strong café scene, so the competition to end up on the list must have been fierce, and those who won a spot should be the crême de la crême. Every once in awhile, we would just randomly pick out a few and go "bar notable" hopping.
Clásica y Moderna, Recoleta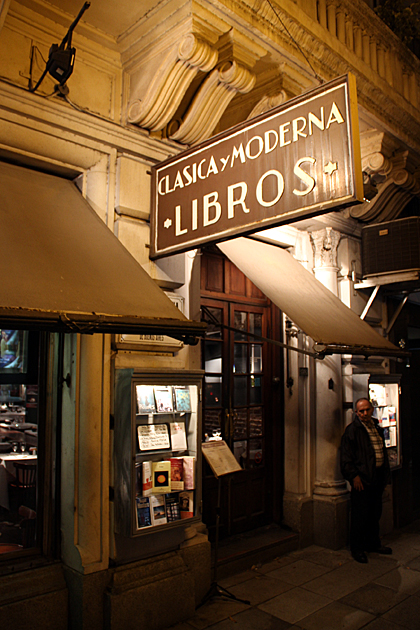 Argentinians love reading almost as much as coffee, and the restaurant/bar Clásica y Moderna has decided to capitalize on both. Past the main salon, patrons of the bar can visit a small but well-stocked bookshop. Sounds weird, but somehow it fits perfectly. With its huge glass windows, the book store blends in seamlessly with the rest of the bar's decor.
Clásica y Moderna
Av. Callao 892
Location on our Buenos Aires Map
La Giralda, San Nicolás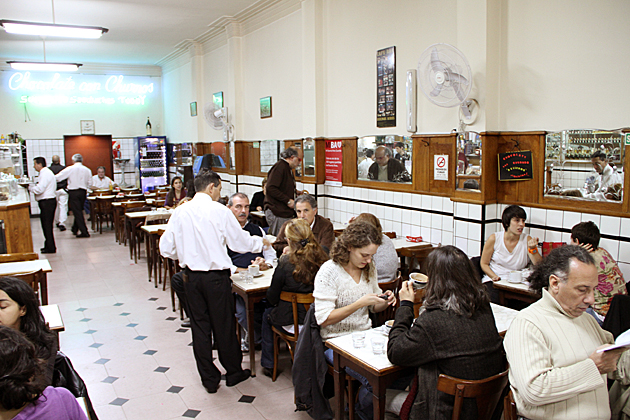 More a chocolatería than a bar, La Giralda is heralded for having the best churros in the city. Found between bookshops on Calle Corrientes, this relaxed, brightly lit café has been a favorite hangout of intellectuals since it opened in 1970. We loved its tiled floors and marble tables, and the fact that six waiters were running around taking care of guests, where one would have done quite nicely. We were on our way to dinner, and weren't in the mood for churros and chocolate, but we did try one of their heavenly alfajors. A neat place.
La Giralda
Av. Corrientes 1453
Location on our Buenos Aires Map
Bar Oviedo, Mataderos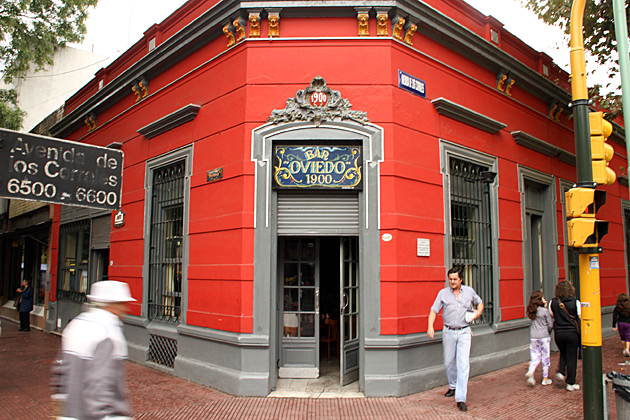 Of course we were gonna go to Bar Oviedo! After all, we initiated our For 91 Days travel project in Oviedo, Spain. We were there on a rainy Sunday when the Feria de Mataderos had been cancelled, so no one was in the best spirits. I asked the waitress about the connection to the Spanish city. "I don't know. It's just the bar's name". And when it came time to order, I tried about twenty things on the menu. "Out of that. Sorry. Nope, none of that either". I settled on a sandwich of dry bread with a single piece of cured ham inside. Oviedo has some charm, but you really have to search for it.
Bar Oviedo
Av. Lisandro de la Torre 2407
Location on our Buenos Aires Map