Continue to follow us on Twitter and Facebook, and make sure to go with us to our our next location!
Three months. Had it already been three months? I don't think we've ever lived in a place where time seemed to fly past so quickly. It felt as though we had just arrived and yet, there we were with bags packed. After a week-long vacation on the Paraná Delta, we were going to hop on a plane for Bolivia, our next destination.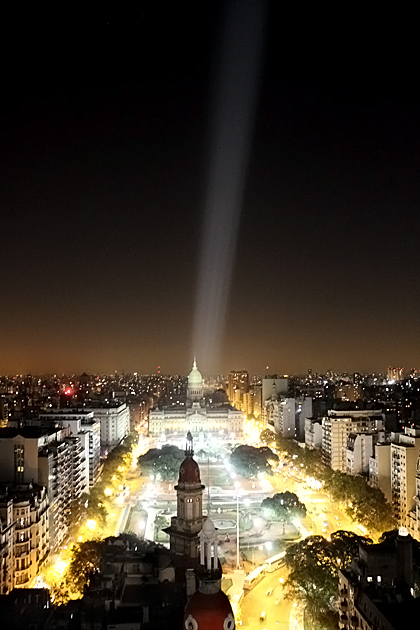 What an incredible city Buenos Aires is! Hectic, loud, intense, packed with culture, drowning in its own history. Before arriving, we knew that we might be overwhelmed: so many museums and buildings to visit, restaurants to fatten ourselves at, neighborhoods to explore. What we didn't expect was the warmth and hospitality of its people. You hear so much about crime and danger, but we didn't experience that at all. The porteños we met, almost without exception, have been kind, open and helpful. How many fun conversations did we have with taxi drivers, shop merchants, and regular folks in bars? Too many to count, and far outstripping the very few negative encounters.
But more than anything it's the size of the city which I'll never be able to forget. Both its magnitude and density; so much humanity living and working, so much business and commerce. Every block offers something, whether it's a classic café, a unique store, crazy graffiti, or an incredible bit of history. We were out on the streets every day, but even when just re-traversing routes with which we were already intimately familiar, always uncovered something new. The person who claims to be bored in Buenos Aires must have his eyes closed. The person who claims to know everything about it, a fool.
As we prepared to shut the door on this chapter of our lives, we found ourselves with mixed emotions. On the one hand, it would be a relief to slow down our pace to more human levels. But we would surely miss the invigorating abundance of life and mayhem. So we weren't sure whether to celebrate or mourn the end of our stay. The only thing that we were sure about, was that we'd never forget our time in Buenos Aires: one of the world's most extraordinary cities.