For 91 Days in Buenos Aires
We lived in Buenos Aires, the capital of Argentina and the world's 7th biggest city, for three months — from February to May, 2011. It was still summer when we arrived, and after a chilly winter in Savannah, GA, we were happy to explore our new temporary home in shorts and sandals. By the time we left, the temperatures had cooled down, but we were still enjoying brisk, sunny fall days.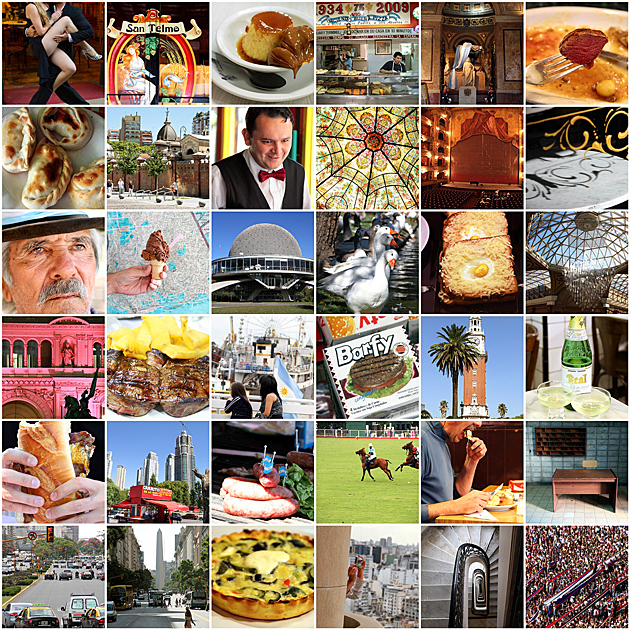 Three months is a long time and, by the time our stay in Buenos Aires came to an end, we had a pretty good handle on the city. Not even a lifetime would be sufficient to see and do everything in this metropolis, but we got out onto the streets often as possible, mixing the touristy sights with more unknown highlights.
Here's a quick rundown of some of our favorite things in Buenos Aires. For more, check out the comprehensive list of posts — or start at the beginning of our journey and read about the city in the order we experienced it. We hope that our experiences and pictures are of as much interest to tourists planning a trip, as to life-long porteños looking for a new view of their home… and anyone else who's interested in Buenos Aires: one of the world's most fascinating cities.
Food
We ate a lot during our time in the city, thanks to an incredible exchange rate (six pesos to the euro). Argentina is known for its steaks, and some of our favorite parrillas (grills) were the hip Desnivel in San Telmo and Las Cholas in Palermo. Pizza is another highlight, and the city is stacked with historic, wonderful pizzerías: El Cuartito, Kentucky Pizza, Banchero and Las Cuartetas. If in doubt at the pizzería: order fugazzeta!! For healthier, more upscale fare, check out Abuela Pan, Pizarras or the incredible Caseros. Don't dare skip out on the city's famous ice cream. And if you want to know where our absolute favorite meal was, during our whole three months, that's easy: La Boca's El Obrero.
[The full list of restaurants we visited]
The Barrios
Buenos Aires is split into 48 official barrios. We lived in San Telmo, where the city was founded, and which is one of the most popular with tourists. The other main barrios of touristic interest are La Boca, Montserrat, San Nicolás, Retiro, Recoleta and Palermo. Each one offers enough to occupy a couple days, and is worth experiencing in full. But we also made it to some other, less well-known neighborhoods, such as the fascinating Barracas and the elegant Belgrano "R". We spent a day in the classic, and strangely overlooked barrio of Caballito, and often went to modern, odd Puerto Madero for jogging. During our time here, we made a couple day trips outside the city as well — one to Tigre, an awesome village north of the city on the Paraná Delta, and across the Río de la Plata to Colonia, Uruguay.
Festivals, Sports and Culture
Every weekend, there was something new going on, and we just scratched the surface of the cultural and sporting activities you can see in Buenos Aires. Toward the top of our list was soccer — we had a great time at San Lorenzo, and a frustrating experience at Boca Juniors. We were also introduced to polo, here — the British had a strong influence on the sporting scene of Argentina. We lived right on top of the weekly San Telmo Fair, a wonderful Sunday collection of neat crafts and crazy people, and also made it to the Feria de Mataderos, celebrating Gaucho culture. More out of obligation than anything else, we visited a tango show at El Querandí (and loved it), and also took a tour of the city's best graffiti. And we were lucky enough to meet a couple local artists: Alfredo Genovese, who specializes in the porteño art of fileteado, and Chancha Via Circuito, an awesome producer whose mixes of cumbia and other Latin American beats have been landing on Best-Of lists throughout the world.
[Here's the rest of the cultural highlights we hit]
Museums and Buildings
As befits one of the world's biggest cities, Buenos Aires is bursting at the seams with incredible museums and gorgeous buildings from its golden age at the turn of the century. We absolutely loved the modern art museums of PROA and MALBA, and were pleasantly surprised by both the Carlos Gardel and Evita Museums. The highlight, though, was probably the Isaac Blanco Museum of Latin American Art, set in a stunning neo-colonial palace. The list of stunning buildings in this city is too lengthy to fully detail, but our favorite tours included the Casa Rosada, the palaces of Paz and Barolo, the National Library and, above all, the incredible Teatro Colón.
[Even more buildings and museums]
Parks, Plazas, Pictures and More
There aren't enough green areas in Buenos Aires, particularly in the inner barrios. But Palermo makes up for it, with its incredible set of parks, including the Bosques and the Botanical Garden. We spent a lot of time there, but even more in the Reserva Ecológica of the Costanera Sur (because we lived closer!) Other favorite areas included the amazing Recoleta Cemetery, the Plaza de Mayo and Palermo Soho's ultra-cool Plaza Serrano. Jürgen's camera was a constant companion, and he took innumerable shots of the city, the best of which have been collected into a number of photo-reportages, which offer a singular perspective of the city. Overall, our time here was exciting, surprising and often adventurous — never more so than when riding the crazy buses, or visiting an insane asylum to watch a radio program with an interesting concept.
Everyone's Buenos Aires experience is bound to be unique. We hope that you enjoy reading our 120+ posts, as much as we enjoyed researching and writing them. Please leave us comments or get in touch with us if you have questions… and make sure to follow our journey to the next location: Bolivia – For 91 Days.
– Accomadation in Buenos Aires: Hostels – Hotels – Apartments