Tigre Hotels and Hostels
South America's second-longest river, the Paraná, begins in Brazil and flows south, etching out the border between Paraguay and Argentina. Before emptying into the Rio de la Plata, the river extends into a flood plain which reaches 200 miles in length and nearly 40 miles in width. The city of Tigre, with a population of 30,000, is found near the delta's end.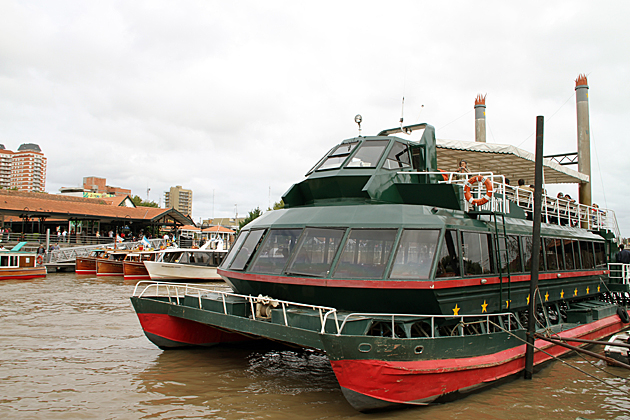 Tigre is named for the jaguars that once lived in the area, whom settlers mistakenly pegged as tigers. It was founded in 1820 and was a small backwater port until the Buenos Aires elite moved in at the turn of the century, building mansions and establishing rowing clubs. Modern Tigre has retained much of its splendor from those golden days, which we saw firsthand when visiting one sunny weekend afternoon.
Reaching Tigre couldn't be easier or cheaper. A train ride from Retiro takes about an hour, and will set you back about 50 cents. Upon arriving, we went straight to the water. Small taxi boats and larger sight-seeing catamarans depart regularly from docks near the train station, and we hopped on the first one we could.
The Paraná Delta is immense, and the hour-long boat trip gave us only the briefest glance at the winding waterways and stilted houses which border the river. People who live here have to use boats to get home. The alluvial scenery was so lush and serene, we could have spent the whole day happily touring the rivers and looking at houses. But the rest of the town awaited.
Tigre is small, and a tour through downtown, with its odd mix of impressive old architecture and ugly modern constructions, doesn't take much time. Soon, we reached the Mercado de Frutas, which is Tigre's main attraction aside from the delta itself. A literalist, I was expecting a collection of fruit stands. But it's actually comprised of home, garden and crafts stores.
Tigre is an uncomplicated day trip from Buenos Aires, and we really enjoyed ourselves, especially on the boat trip. In fact, we were so taken by the beauty of the delta that we made plans to spend our final week in Argentina renting a cabin and relaxing by the river. A more restful place to get away from the city is hard to imagine.
Tigre Tourism (Spanish)
Location of Tigre on our Buenos Aires Map