Buenos Aires' oldest and most famous coffee shop is Café Tortoni, just a few blocks west of the Plaza de Mayo. A gorgeous space which has been serving porteños since 1858, the café is usually toward the top of everyone's "must-see" list. For good reason.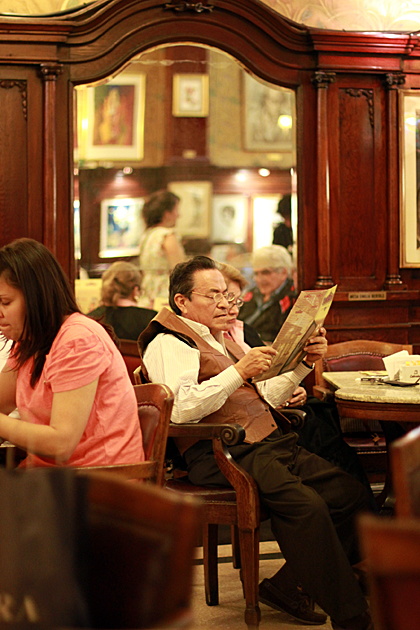 The oft-photographed Parisian-font logo above the front door betrays the café's origins. Tortoni was founded in 1857 by a French immigrant, who named it after his favorite coffee shop in Paris. It quickly gained a foothold among the people of Buenos Aires, and was the first of many cafés that would sprout up around the city toward the end of the 19th century. A host of famous people have been patrons, from Borges and Federico García Lorca, to Albert Einstein and Hillary Clinton.
Inside, Tortoni is spacious and beautifully decorated with stained glass windows, wooden furniture and old pictures on the walls. There's a billiards room, and a couple smaller salons used for concerts and tango performances, as well. The cafe has done a splendid job maintaining its spirit of authenticity, despite the crowds and camera flashes. If possible, try and go on a weekday; there are still a few hours when Tortoni calms down, and you can fully immerse yourself in its charm.
Av. de Mayo 825/29
Location on our Buenos Aires Map
Tel: 4342 4328
– Everything we have done in Buenos Aires