With the Casa Rosada to the west and the city hall to the east, the Plaza de Mayo is undoubtedly the political nexus of Argentina. From famous speeches to white-hooded mothers united in a call for justice, the plaza has long been the focal point of the country's most compelling dramas.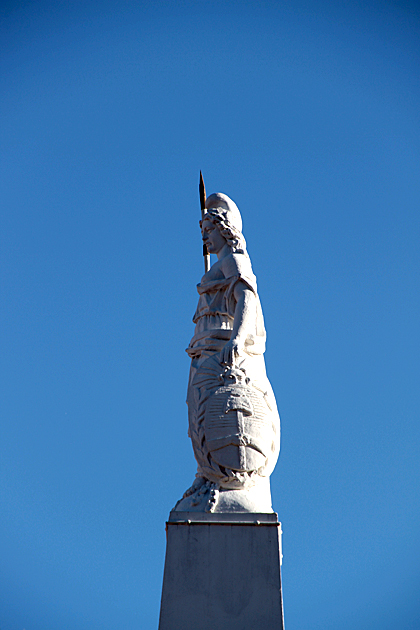 One of the more famous scenes was the massive October 17th, 1945 demonstration of the descamisados, organized by Evita and the CGT Workers' Union to demand the release of Juan Peron from prison. After decades of misrule by military juntas, the people finally demanded to be heard. And they were.
Ten years later, the plaza became the blood-soaked scene of the most devastating attack ever to occur on Argentine soil. Juan Peron was still in office, empowering workers, and the country's military leaders didn't like that… not one little bit. As the opening salvo in an attempted coup d'etat, the country's army and air force flew over the Plaza de Mayo and bombed a rally being held to support Peron. 355 died, and damage from the shrapnel is still visible today.
But the plaza's most enduring image is that of the weekly Thursday vigils of the Madres de la Plaza de Mayo. During the Dirty War (1976-1983), the conservative government kidnapped, murdered and disappeared the remains of tens of thousands of young, liberal Argentinian men and women. Families were given no information as to the fate of their children, and in the face of government indifference, a group of mothers banded together in a call for justice. They donned white shawls and marched every Thursday around the Plaza de Mayo, silently pressing the government for answers.
It's difficult to overestimate the bravery of these women. They congregated in full view of their children's assassins, comfortably seated in the Casa Rosada, tacitly daring them to either arrest or murder a group of peaceful women. And in fact, their gamble wasn't without consequence. Government operatives would occasionally sneak into the group, and a few mothers were disappeared themselves.
Every visitor to Buenos Aires is going to find themselves in the Plaza de Mayo at some point. On a sunny day, and especially at dusk when the setting sun illuminates the Casa Rosada, it can be beautiful. The country's turbulent history may darken that beauty, but also makes it richer.
Plaza de Mayo on our Buenos Aires Map
–Cheap Flights to Buenos Aires