In the 19th century, the wealthiest corner of Buenos Aires wasn't Retiro or Recoleta, but Barracas. Over the decades, this southern neighborhood lost its former glamor but recently has been showing signs of a resurgence in popularity.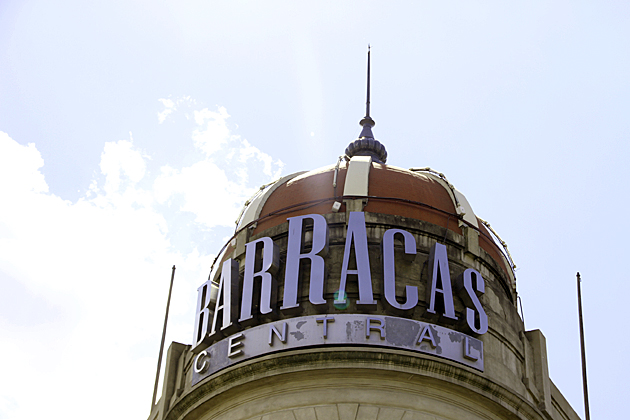 Yellow Fever
In 1871, a yellow fever epidemic devastated Buenos Aires. Eight percent of the city's population fell to the disease, and the southern end of the city was particularly hard-hit. The upper-classes abandoned Barracas in droves, resettling in the north of the city and leaving the neighborhood to the European immigrants, still arriving from Italy and Spain by the boatload. The wealthy families generally held onto their properties as landlords, and slowly allowed them to fall into decay.
Las Palmas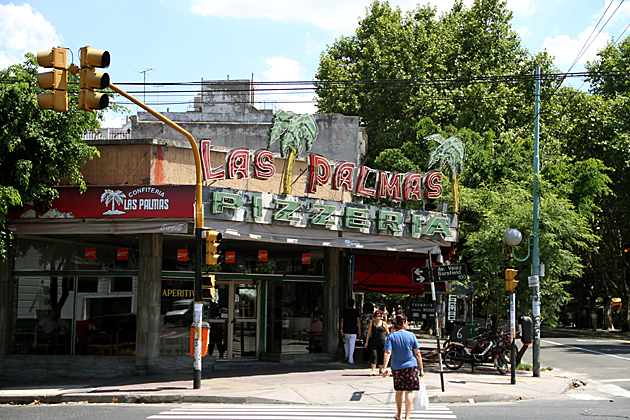 On a sunny Sunday afternoon, we set out to uncover the best the barrio has to offer. We stepped out of the bus at the strangely quiet Parque España, and made a beeline for Pizzería Las Palmas. Pizza was our first mission of the day, as it nearly always is. Las Palmas is a very cool, unpretentious restaurant with cheap prices and delicious food. With its neon lights and casual vibe, it felt like a place right out of 1950s Midwest America. I turned around every time I heard the door open, to check if the Fonz had just come in.
Calle Lanín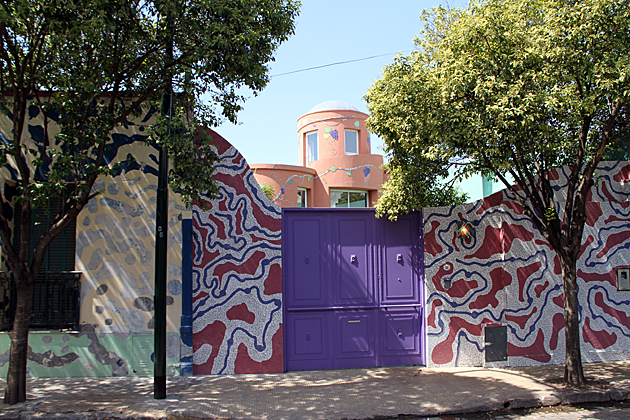 Full on cheese and grease, we headed south along Calle Brandsen, past a creepy neuropsychiatric hospital and onto Calle Lanín, a street which has been turned into an amazing open-air art gallery; kind of an answer to Boca's Caminito. Every house on Lanín is covered with colored tiles, in swirling, mesmerizing patterns. The project, by local artist Marino Santa María, debuted over 10 years ago and has lost none of its brightness or vitality. And the amazing thing is, on a Sunday afternoon when thousands of tourists are crammed into El Caminito, Calle Lanín was absolutely desolate.
The Israeli Temple & Society of Light
In fact, everything was so eerily quiet that we were becoming convinced that nobody actually lived in Barracas. But that changed upon crossing Avenida Montes de Oca, where the neighborhood burst noisily into life with shops, restaurants, dog poop, galleries, buses and traffic, and cleaning ladies dumping buckets of water out onto the sidewalk. As we wandered around Barracas' eastern side, we came across some incredible buildings. A gorgeous Arabesque building on Calle Brandsen turned out, strangely, to be the Israeli Temple. According a group of older Jewish Argentinians standing outside, it has an amazing interior patio (the temple was unfortunately closed when we arrived). Nearby, we found the neoclassical Sociedad Luz building, a stronghold of 19th-century socialists who founded the university to promote scientific learning among the working classes. Today, the building continues its educative purpose as a public library.
Iglesia de Santa Felicitas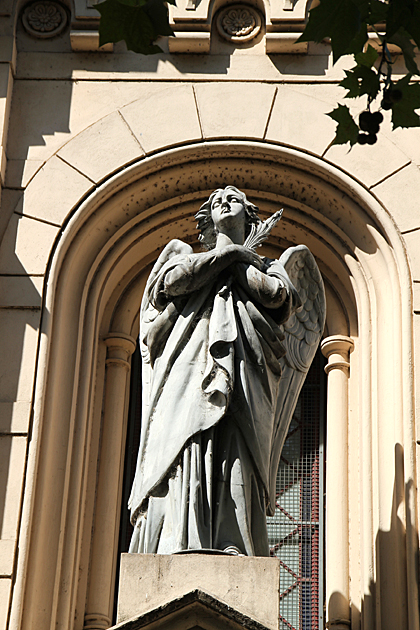 But Barracas' most impressive building is the Iglesia de Santa Felicitas. This massive religious complex was inaugurated in 1876, and named in honor of Felicitas Guerrero, who enjoyed fame as the most beautiful noblewoman in Buenos Aires. As a teenager, she had been married off to a rich and much-older landowner, who died soon after the union, leaving his young widow incredibly rich. Felicitas had youth, wealth and beauty… it's no surprise that she became the desire of numerous suitors, among them Enrique Ocampo, who had been obsessed with her for years. When he learned that she'd fallen for a rival, Ocampo lost it. Following her onto her estate in Barracas, he confronted her with a pistol. "You'll marry me, or you'll marry no one!" When she tried to escape, he shot her in the back then committed suicide. (Or was shot by Felicitas' father, who had quickly arrived on the scene; it's never been satisfactorily resolved). Both the widow and her assassin were buried in Recoleta Cemetery on the same day.
Barracas was once the scene of the noble class's exploits, but has spent the last century as a forgotten corner left to poor workers. The richness of its history is evident in every corner, and it's a fascinating neighborhood in which to spend a day. Warned off by overly cautious guidebooks and well-meaning locals, tourists generally avoid the area, and that's a shame. Barracas has a lot to offer… but get there quick if you want to be ahead of the curve, because the neighborhood is already at work shaking off its rough image. Check out the rest of our images, of this incredible and still relatively unknown section of the city.
Calle Lanín on our Buenos Aires Map
–Short Term Stay in Buenos Aires