El Cuartito – Pizza & Empanadas
Step into a time warp and a grab a table at El Cuartito: one of Buenos Aires' oldest and most popular pizzerias. With vintage boxing and football posters covering the walls, a frantic waiter running around the tables to take orders and deliver food, and the most delicious pizza I've eaten in quite some time, this incredible restaurant is one of the city's best.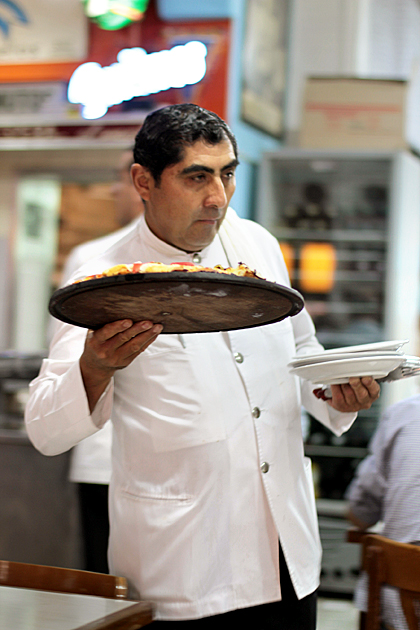 El Cuartito has been in business since 1934. Found in Recoleta, it's a busy place during lunch; you can either order at the counter or sit down for service. Well you'll get service if you can grab the waiter, which isn't so easy. And once you do get his attention, don't expect him to patiently answer all the questions you may have about the menu. While taking our order, he didn't even pause at our table, just slowed down his pace a bit as he passed by.
The prices at El Cuartito are great and the pizza is out of this world. At least, it is if you like cheese, mounds of heavy cheese dripping off every slice. A lot of people might turn their noses up at this style of pie, but I was in heaven. We ordered the medium size ("chico"), which came with six slices. You can combine different styles of pizza, and try out a variety; we went with the Atómica and the Cuartito. The empanadas are another house specialty, and we got one filled with spicy beef. We noticed that a lot of locals were skipping on pizza entirely and had a meal of two or three empanadas.
Dessert was a silly idea. My stomach was already full to the breaking point, but when we saw the dish served to a guy at a nearby table, we couldn't resist. "Eso! Lo quiero también!" I shouted at the waiter as he zipped by. Minutes later a rich portion of flan, with a side of sweet, carmelly dulce de leche was set in front of us.
El Cuartito instantly vaulted itself onto my list of favorite places, and I would have to return. But there were so many other pizzerias to try! Suffice to say, weight maintenance was a constant struggle during our time in Buenos Aires. If you've got some restaurant tips, leave a comment or let us know!
Location on our Buenos Aires Map