Get your Dulce de Leche fix here
Take a jar of sweetened milk and add sugar. Then slowly heat it over the course of a couple hours, stirring almost constantly. Your hard work will be rewarded with a portion of dulce de leche, a thick caramel-colored substance wildly popular in Argentina.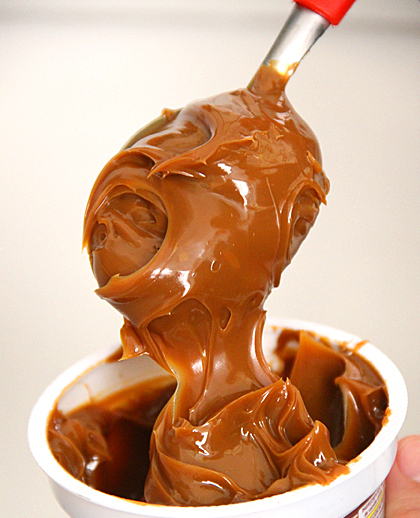 Good luck trying to find peanut butter on the shelves of an Argentine supermarket, but even the most useless market is stacked with rows and rows of dulce de leche. People spread it on bread, put it in between cookies to make alfajores, work it into ice cream, and even consume it by the spoonful, straight from the jar.
It tastes … sweet. That's a really uncreative description, I know, but there's no better way to describe dulce de leche. It's the essence of sweetness, condensed to its most pure form. It's the sweetness world's gold standard. Cut a little girl, and neither sugar nor spice, but thick dulce de leche will drip slowly from her open wound.
Argentina lays claim to the invention of dulce de leche, but so does every other Latin American country; it's popular all over the continent. Personally, I can stomach about one bite of the stuff, but if you've got a sweet tooth, you'll find a gooey lifelong friend in dulce de leche.
– Wine Tasting in Buenos Aires