Tierra Santa, found in Palermo's Parque Norte next to the Newbery Airport, is a Jesus-themed fun park. Though, calling it "fun" might be stretching the truth a bit.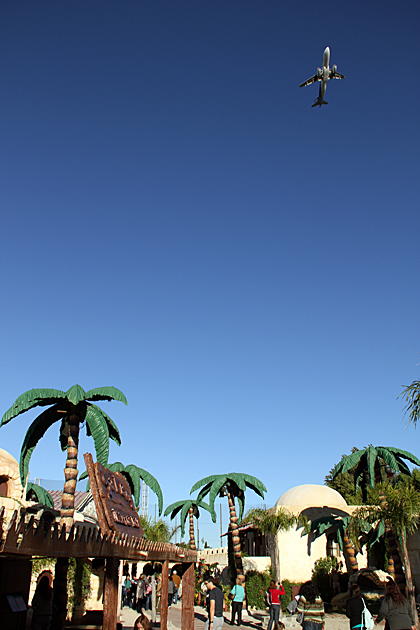 Step right up, and get your picture taken with Crucified Christ, Argentine flag waving proudly behind him! Or right over here, let's have fun watching Jesus struggle under the burden of the cross. My, how lifelike his agony seems! Wonderful, clap clap. Haha, Johnny, step up here and get a picture with the Roman soldier whipping Jesus. Smile, Johnny! You are at a fun park, after all.
Jürgen and I were sold after reading about Tierra Santa's big draw, a massive Jesus statue that emerges from the ground once an hour. Yes. It was like hitting the atheist's irony jackpot. So, we went. We had to.
The park turned out to be lame. I mean, of course it was lame, but even more so than we'd expected. The big nativity show was ridiculous. Are you old enough to remember Showbiz Pizza Place? It was like that, except a lot less cool. And there was nothing to do in the park. You could get your picture with demonic, twisted caricatures of figures like Mother Teresa or the Pope. You could pet a donkey. Buy a Pepsi. That was about it.
Honestly, I don't know who the target market for Tierra Santa is. If you take religion even the slightest bit seriously, you'd be horrified by. Maybe it really is for people like us: godless heathens who just want to have a laugh. But it's not even good for that.