Found on Calle Corrientes, El Gato Negro is one of Buenos Aires' sixty Bar Notables, and an institution in the city. It was founded in 1926 by Victoriano López Robredo, a Spaniard who'd spent much of his life in Sri Lanka and wanted to bring his knowledge of teas to Buenos Aires.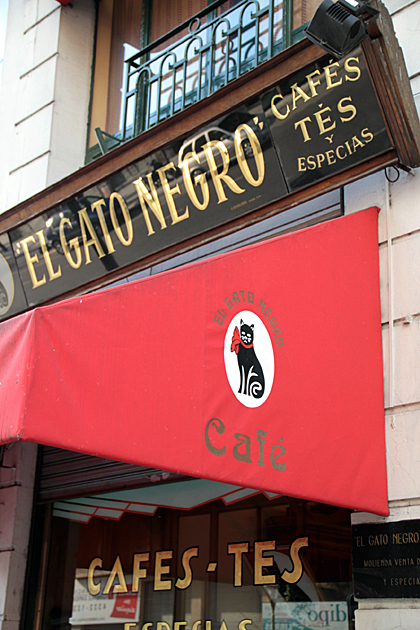 Today's "Black Cat" is a bar, a restaurant, a café and, most noticeably, one of the city's best places to buy spices from all over the world. The counter and bar area resemble a pharmacy, with hundreds of jars sporting labels like tomillo (thyme) or romero (rosemary). A huge range of loose teas and ground coffee supplement the lineup. Nasal Sensory Overload.
We sat down for a coffee before catching a show at the nearby Teatro Premier, and watched the immaculately dressed waiters tend to their clients. An older woman at the counter wanted some sort of yellowish powder from a jar gathering dust on the top shelf. Next to us, a nicely dressed gentleman sat in silence, absorbed in his newspaper, only occasionally raising his head to glance the shop around suspiciously. While setting down the cake and coffee, our waiter addressed us deferentially as "los señores". I loved it.
The second floor is a dining area which occasionally hosts concerts, but we kept to the beautiful main floor. With its location smack in the middle of the Theater District and air of easy sophistication, the Gato Negro is the perfect place to sit down with your friends, adopt highfalutin accents, order an obscure Sri Lankan tea, and engage in pompous pseudo-intellectual discourse about whatever play you've just seen. "Really, old chum! The existentialist indulgences of the protagonist's soliloquy were frankly overwrought. Garcon, [clap clap] a touch more ceylon, please!"
Corrientes, Av. 1669
Tel: 4374-1730
Location on our Buenos Aires Map