Tango, Desaparecidos, Maradona
"What do you know about Buenos Aires?" That's the question posed to Barcelonan detective Pepe Carvalho at the beginning of Manuel Vázquez Montalbán's excellent crime novel Quinteto de Buenos Aires. Carvahlo's response mirrors what mine would have been: "Tango, desaparecidos, Maradona". I suppose I might have added Evita. Not much else.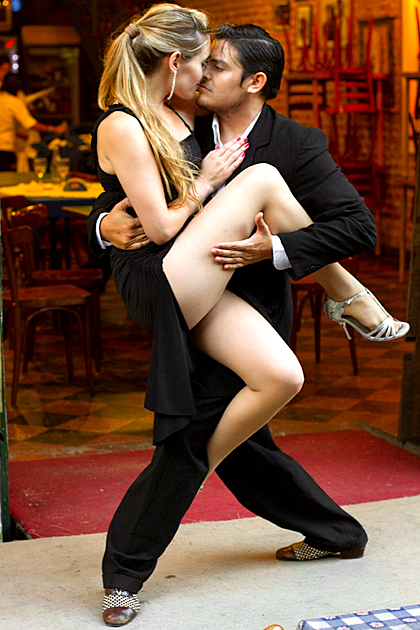 Neither Jürgen nor I had ever been to Argentina before. Or South America, for that matter. I can't say exactly why we chose Buenos Aires for our next three month stay; for some indefinable reason, the city has always tempted us. The words "Buenos Aires" conjure images of smoky tango clubs, chaotic street life, and beautiful, rotting decadence. The very idea of the city is alluring. Maybe it was the promise of steaks and pizza, or the reputation which Argentines enjoy of physical beauty. Whatever the reason, we arrived in February of 2011 to find a huge metropolis teeming with culture and history laid out before us, just waiting to be explored.
It's a bit daunting: our last two stays were in the smaller cities of Oviedo, Spain and Savannah, Georgia. Our experience in Buenos Aires would be massively different. There was no chance we'd ever get to know this megalopolis as intimately as we did Savannah, or as thoroughly as Oviedo. The idea of comprehensively experiencing Buenos Aires in three months is ridiculous. Instead of our normal maturation from "bewildered newcomers" to "almost locals", we'd never progress further than "slightly less bewildered newcomers".
But our education began quickly. Within our first couple days in Buenos Aires, I became addicted to both mate and Carlos Gardel. By the end of the first week, I was using the word "Che" with the newspaper vendor, pronouncing my "ll"s like "zsa" and comfortable with the various cuts of beef at the parrilla down the street. Basically a local already.
Whether you've lived here for years or never been, we hope you enjoy our pictures and the accounts of our experiences in Buenos Aires. As already mentioned, we don't yet know much about the city, so if you have any great recommendations, we'd love to hear them… shoot us an email, or contact us via Facebook or Twitter. Our 91 days in Buenos Aires is underway!
–Download our Buenos Aires Book