No type of restaurant is more characteristic of Buenos Aires than the parrilla. Just around our neighborhood, there are at least six hundred thousand parrillas. Six thousand million restaurants with open barbecue pits where steaks, sausages and offal are grilled to perfection and served to the bloodthirsty meat-eaters of the city.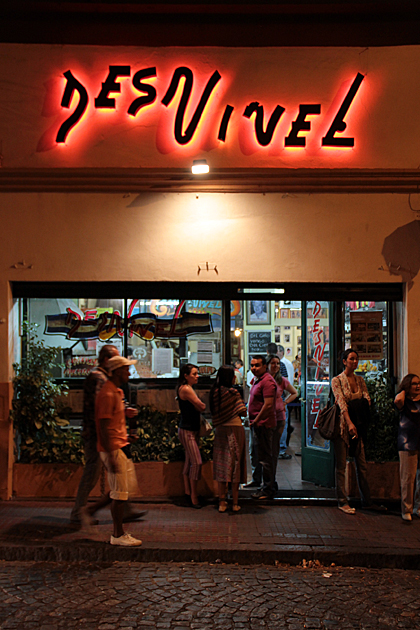 You might think one parrilla can't all that different from the others. It's grilled meat. How can a particular restaurant excel at that? But the quality actually varies widely, and so we wanted to choose correctly for our introduction to the art. And upon seeing the crowds packed inside Restaurante Desnivel, we made our choice. No surprise that Desnivel is so popular: the prices are low, the meat is high quality, and the service is quick, if a little brusque. No frills.
The steak I ordered was incredible. This was my first true Argentine slab of meat, and it was thick and delicious. Faultless. The rest of our food was great too, but paled in comparison to that steak. So juicy, I wanted dump the wine out of my glass, wring out my steak into it, and drink the bloody grease with my pinkie finger stuck out like a fancy caveman. So juicy, I wanted to use it as the world's most delicious pillow, and lick it while I slept.
Because Desnivel is so popular, you might have to exhibit some patience before getting a table. It's chaotic and loud, but if you're looking for a perfectly grilled steak that won't set you back too much cash, you can't go wrong here.
Restaurante Desnivel
Defensa 855
Tel: 11 4300 9081
–Download our Buenos Aires Travel Book