Sebastián Rivas of Amici Miei
One of San Telmo's most popular spots is Italian restaurant Amici Miei, where tourists and locals congregate in equal numbers to enjoy handmade pasta and a balcony view over Plaza Dorrego. We recently got to meet its owner and top chef, Sebastián Rivas.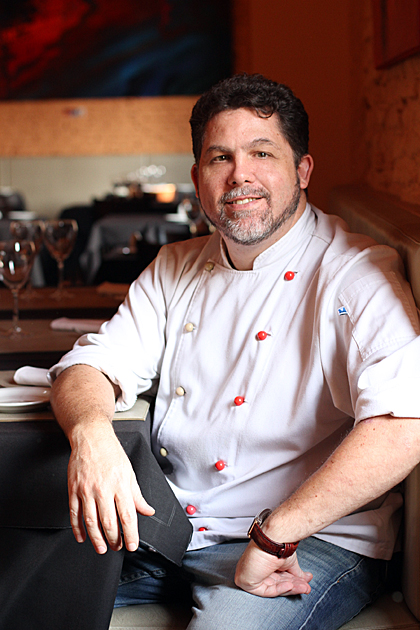 Sebastián perfected the art of Italian cooking while living and working in Parma, and decided to open his own restaurant upon returning to Argentina. He was lucky to find an excellent space in San Telmo. Four years ago, when the restaurant opened, San Telmo wasn't all that touristy or popular, and Amici Miei has benefited greatly from the neighborhood's recent resurgence. Of course, it doesn't hurt that the restaurant's classically elaborated pasta, made with imported Italian products and served with a modern flair, is excellent.
The restaurant itself is unpretentious, adorned with a few paintings from local artists, and with perfect light spilling through the windows during the evening hours. An open window into the kitchen permits observation of the cooks stretching, pulling and cutting the pasta. Sebastián invited us inside, so we could watch him throw together some of his signature dishes, such as black truffle risotto with mushroom sauce. We had a few spoonfuls — it was unbelievable, and I kept waiting for him to leave us alone in the kitchen, so I could shovel the entire bowl into my mouth.
The plates he prepared were all classic Italian recipes with unique touches. For example, he serves the rotolo, a traditional rolled-up pasta, with three kinds of basil: fried, dried and liquefied. This fusion of the time-honored and modern is what Sebastián aims for at Amici Miei, along with a friendly atmosphere (the restaurant's name means "My Friends"). He comes out of the kitchen to visit with guests, and there's often live music on weekend nights.
Many of the restaurants on Plaza Dorrego are tourist traps, leeching off the popular Sunday flea market, but Amici Miei certainly isn't one of those. Watching Sebastián at work in his kitchen was a fun experience; with a small staff and a head chef who's clearly intent on serving high-quality food, this restaurant is worth a look.
Defensa 1040
Tel: 11.4362.5562 (Reservations recommended on weekends)
Location on our Buenos Aires Restaurant Map
More Photos Of The Amici Miei Restaurant