Latin American Art in the Museo Isaac Fernández Blanco
Around the corner from the ostentatious Palacio Paz is the much more refined Palacio Noël, home to the Museo de Arte Hispanoamericano Isaac Fernández Blanco. The palace would be worth seeing in its own right, but together with the museum, it's one of Buenos Aires' cultural highlights.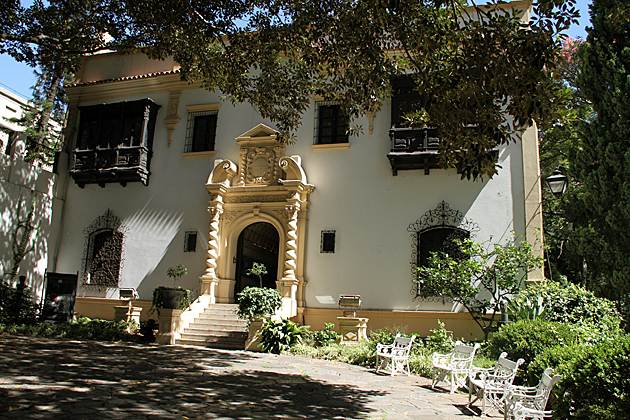 Isaac Fernández Blanco was an engineer who, finding himself the beneficiary of a vast inheritance, went on a whirlwind shopping spree of the continent's colonial-period art. From the outset, Blanco wished his collection to publicly accessible, so he opened up his house in 1921, calling it the Museum of Colonial Art. His daughter was the museum's first guide.
In 1947, fifteen years after his death, Blanco's museum was moved into the Palacio Noël. Designed and built in 1920 by architect Martín Noël as a private residence for himself and his brother, the city's mayor at the time, the neo-colonial palace was a natural fit for Blanco's collection.
Visiting the museum is an utter joy. You could do nothing more than hang out in the tranquil Andalusian patio, with its fountains, benches and trees, and leave satisfied. But then you'd miss an incredible collection of art from the colonial periods of Argentina, Peru and Bolivia. The museum is small, but with three floors and plentiful information about the exhibits, a comprehensive visit could easily consume a couple hours. Religious paintings from Cuzco, a room packed with colonial-era dolls, ivory figures, intricately-carved wooden furniture, a refurbished kitchen and costumes and clothing are just some of the pieces on display. Everything is tastefully lit and the palatial setting generates the perfect atmosphere.
Regardless of your level of interest in antique Latin American art, you won't be disappointed in the museum. Entry costs just one peso, and it's hard to imagine better value for that kind of pocket change.
Museo de Arte Hispanoamericano Isaac Fernández Blanco
Suipacha 1422
Location on our Buenos Aires Map
– Buenos Aires Blog Index and Map