Belgrano "R" – Resplendent, Residential, Revoltingly Rich
Get our posts directly via email!
Hello boys and girls, and welcome to Belgrano "R". Let's play a game! Everyone think of an "R"-word that describes this lovely neighborhood!
Residential? Yes that's right, Bobby. Very clever!
Rich? Indeed, how true! Gold star for Judy!
Ridiculous? I suppose that works too, Jürgen, though I don't much care for that one.
Fascist? MICHAEL! Sigh, that doesn't even begin with "R"… and put your fist down, you irritating little twit. There will be no populist uprisings in Belgrano "R"!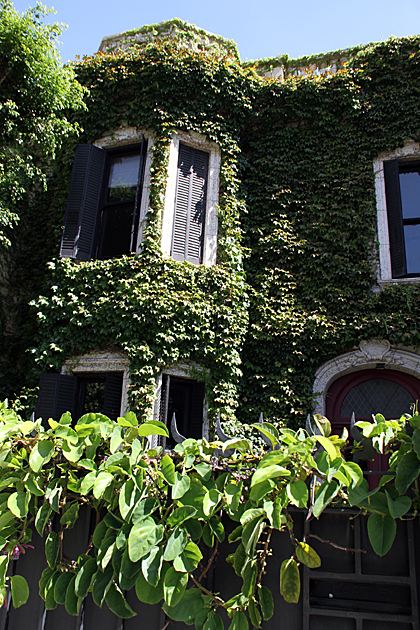 The northern barrio of Belgrano is split into a few sub-neighborhoods, two of which are known as "R" and "C". The letters come from the names of the train stations "Rosario" and "Central", but most porteños assign different meanings to the abbreviations: Belgrano "R" for residential, and Belgrano "C" for China. We'd already checked out China Town during the New Year celebrations, and returned recently to explore the more upscale section of the barrio.
With broad, tree-lined streets and Victorian-style homes, Belgrano "R" is easily the most dignified neighborhood we've seen in Buenos Aires. This section of town was settled by wealthy British expatriates, and the gates and well-maintained gardens are clearly reminiscent of England. After a good lunch at Jolie Bistro, near the train station, we set off to explore. With sunlight filtering through the leaves of the trees, and so many fascinating houses to photograph, we couldn't have been happier.
But the joy didn't last long. The very first time Jürgen hauled out his camera, in front of a house which might as well have been a castle, a portly security guard shouted at us from behind the gate. "¡No es museo! ¿Que quieren ustedes? ¡Esta es una residencia privada!" Geez, we just liked the house. Sorry to have been impressed by a building clearly designed to impress people.
This scenario repeated itself throughout the day. Private security guards were set up on every corner of Belgrano "R" in tan-brown boxes that resembled phone booths. Every time Jürgen started taking pictures, some blustery guard would run over to us and start asking questions. I suppose that's their job and, once their curiosity was satisfied, they always allowed us to continue, but it was awfully annoying. Even when we weren't taking pictures, the guards kept a careful eye on us. "Strangers".
Still, Belgrano "R" is a beautiful neighborhood. There's clearly a lot of money here, and perhaps the exaggerated security measures are necessary. Anyway, enjoy the pictures… I think in the end, it was worth the hassle.
Estacion Belgrano R on our Buenos Aires Map