A Tour of Buenos Aires' Best Graffiti
Nuevo Mundo: Latin American Street Art
Like all great metropolises, Buenos Aires has a thriving street art scene. We took a tour of some of the best graffiti the city has to offer.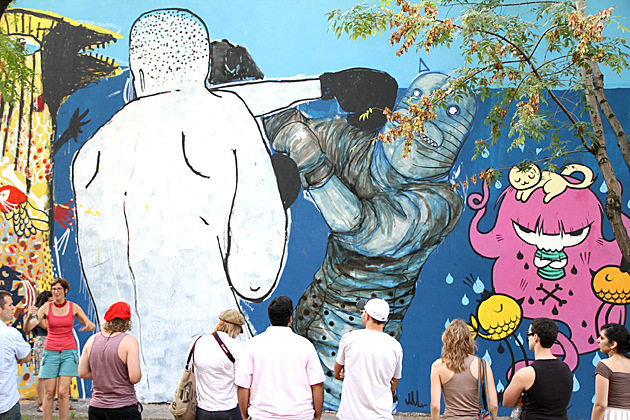 The three-hour tour is organized by Graffiti Mundo, and on a Saturday afternoon we joined a sizable group in Palermo. Our guide was a friendly Australian girl who's been a peripheral part of the scene for years. She personally knew a lot of the artists whose work we would be introduced to, and was full of colorful stories from the volatile underground world.
Part of what makes Buenos Aires' scene so special is its relatively high level of social acceptance, permitting artists to work during the daytime on large, complicated pieces. Huge fish creatures splayed across empty walls, wrestling tigers, cutesy anime girls and unique combinations of stenciling, spray and painted art. We learned the names and styles of certain artists, and saw what happens when goodwill between groups dissolves: usually, the best revenge is had by painting over each other's works. Disappointment once briefly darkened our guide's cheery demeanor, after she discovered that one of her favorite pieces had vanished. This constant threat of disappearance is frustrating, but also part of what makes street art so compelling.
The tour was both on foot and via bus, and took us to some corners of the city we'd have never otherwise seen. We went into the warehouse studio of an artist named Ever, to check out some of his upcoming work, and ended up at the Post Street Bar: a cool joint whose interior decoration was provided by street artists.
At the end of three hours, we were exhausted, but had a decent understanding of Porteño graffiti. The tour cost $90 apiece, and takes off every Saturday. Reservations essential.
Tel: +54 9113 683 3219
– Street Art we liked in Valencia, Spain