Iglesia del Santísimo Sacramento
Near the Plaza de San Martín in Retiro, the skinny Iglesia del Santísimo Sacremento is not as famous or conspicuous as so many other landmarks close nearby. But as long as you're in the area, it's worth taking a quick walk through one of Buenos Aires' prettiest places of worship.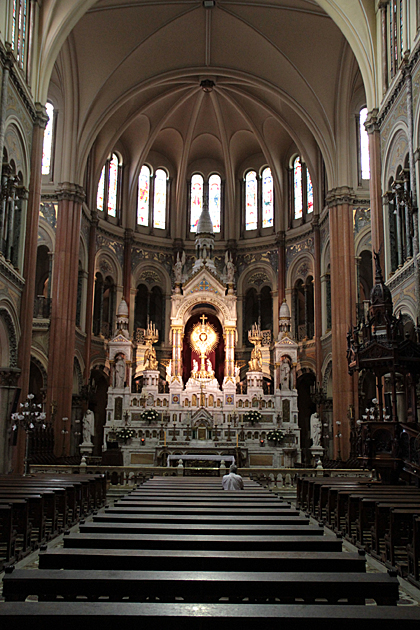 At the turn of the 20th century, Mercedes Castellanos de Anchorena had risen to the heights of Porteño society. Also known as (take a deep breath), Countess Pontificate Maria de las Mercedes Luisa Castellanos of the Church, she had the Palacio San Martín built as her family's primary residence. The sumptuous living quarters must have nagged at her conscience; in 1908 she declared that, "If I live in a palace, then so should God!", and ordered construction of the Iglesia del Santísimo Sacremento. Not bad. Someday, I'd like to be wealthy enough to condescend to God.
The great dame spared no expense. She hired French architects who outfitted the new church with Carraran marble, the world's most expensive, three Venetian maiolicas in the altar, blue and white granite, and a group of statues carved from white marble. Stained glass windows display miracles throughout Christian history and the church's crypt, which can be visited on request, holds the countess's mortal remains. Apparently, she wanted to be God's roomie.
Santísimo Sacramento is still known among porteño high society as the place to get married in the city. Little wonder: it would be difficult to imagine a more beautiful catwalk (or gangplank, depending on your point of view) than the church's narrow and richly ornamented nave.
Location on our Buenos Aires Map
– Get started with drinking Mate