Fileteado Porteño with Alfredo Genovese
Swirling, symmetrical lines and bright colors are the primary elements of fileteado, the most porteño of all arts. The decorative style can be seen everywhere in the capital, from store fronts to city buses, and is enjoying a resurgence in popularity. We met one of Buenos Aires' most famous filete artists, Alfredo Genovese, at his studio in the barrio of Paternal.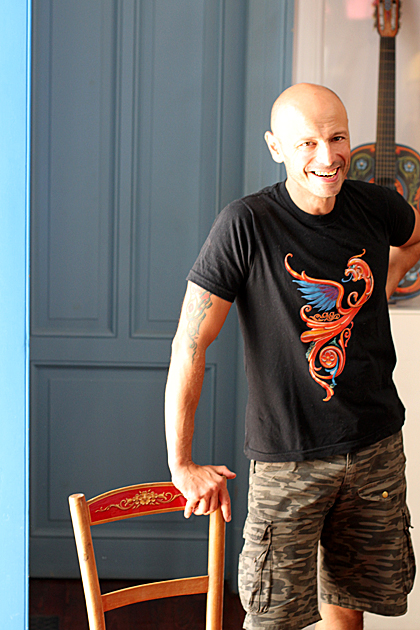 Alfredo has been painting fileteado for 25 years, perfecting his skill. He's also dedicated himself to learning about the history of the style, even writing a couple books on the subject. Fileteado first began to appear in the capital's streets in the 19th century as simple decoration for horse carts. Designs became ever more intricate and, soon enough, every cart in the city was pimped out, usually with the vendor's name written in Parisian lettering in the center.
Filete spread from horse carts to store fronts, street signs and city buses, but was never truly appreciated as "art" among porteño society. As Buenos Aires became more cosmopolitan and less focused on romanticizing the past, the style was on the verge of being forgotten forever. Luckily, that trend has been reversed. Thanks to the tireless work of artists like Alfredo, it has established a strong foothold in the Argentine conscience.
Alfredo's studio itself was a thing of beauty, blanketed in samples of his work. When we showed up, he took a break from painting a greeting sign for a family home in Tigre, in order to show us some of his favorite pieces. One was a skateboard design painted for an Argentinian athlete living in LA, which proved so popular, it was mass-produced. Another, and possibly the most well-known example of filete outside of Argentina, is Alfredo's cover to Mike Doughty's album Haughty Melodic
.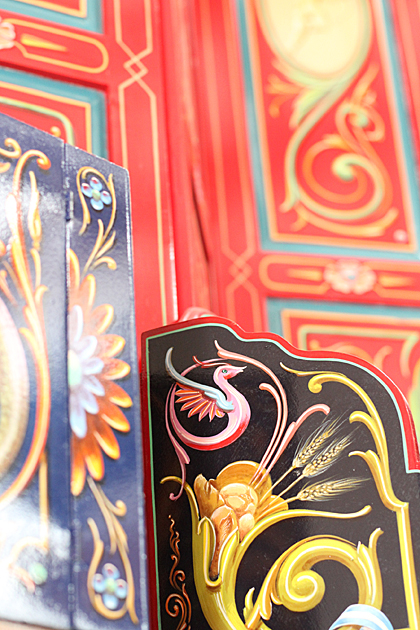 We also got a crash course in the basic concepts of filete… Alfredo pointed out the floral designs, and three-dimensional illusion, as well as some of the symbols that often appear. The sun, usually the one in the Argentine flag, represents prosperity. Both real and mythical creatures appear, such as a dragon, which usually signifies corruption. And almost always, a phrase or a portrait can be found in the center — 85% of the time it seems to be Carlos Gardel.
Alfredo is most interested in pushing the boundaries of the art style. He works a lot with body painting, and has introduced some non-traditional elements into his pieces. For those interested in learning about the style, he offers courses in his studio. We had a lot of fun meeting him and learning more about the style, which is so ubiquitous in Buenos Aires, and completely unknown everywhere else.