Once: Shopping, Synagogues and Naked Presidents
The neighborhood of Balvanera is so large that, when talking about it, residents usually split it up into a number of unofficial sub-barrios. There's Congreso and Abasto, but we spent a sunny Saturday exploring Once (OWN-say).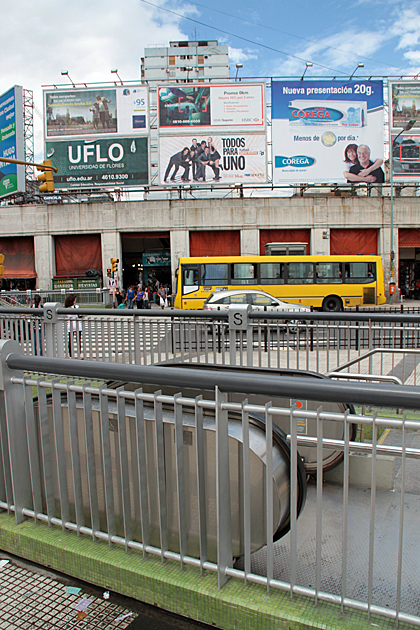 Once takes its name from the September 11th Train Station. No not that 9/11, but that of a 1852 revolution which resulted in a short period of independence for the State of Buenos Aires. Though the train station itself is rather dull, the adjacent Plaza Miserere makes up for it. This buzzing plaza is the heart of Once, ringed by vendors selling everything from postcards to panties. We bought a Super Pancho (hot dog) for a buck and sat down in the Plaza to take in the flavor of the neighborhood. Once has a hot-doggy flavor.
At the center of the Plaza Miserere is the massive stone mausoleum of Argentina's first President, Bernardino Rivadavia. Inaugurated in 1932, the mausoleum is flanked by two statues of Rivadavia, one of which presents him in the nude, nether regions precariously covered by a flag. I doubt George Washington was ever portrayed this way. Clinton, perhaps.
From Plaza Miserere, we walked north on Avenida Pueyrredon, where shopping is the name of the game. The sidewalks were packed, and every shop was advertising special deals. Considering that they weren't exactly boutiques of the highest quality, such as those of Retiro and Recoleta, I was surprised to still find prices more expensive than in the States. No bother: with the stress of the crowds, we had quickly lost our shopping fever and made an escape into the side streets.
We found a bar in a quiet section of Once, and sat outside with a large bottle of Quilmes to indulge in a little people-watching. Huh, look at that, an Orthodox Jewish family. And another one. Odd. And there goes a couple young guys with payots and yarmulkes. Turns out that Once is the section of Buenos Aires where European Jews, mostly Russian, settled in the early 1900s to escape persecution. Kosher shops and synagogues abound here and, since it was a Saturday, the Jewish families were all on their way to worship. It was a unexpected vision of the city, underlining how diverse Buenos Aires truly is.